MTS launches MTS Royale loyalty programme for MBlaze users in Kolkata & WB
MTS India has today announced the launch of a special customer loyalty programme for its MTS MBlaze users in Kolkata and West Bengal.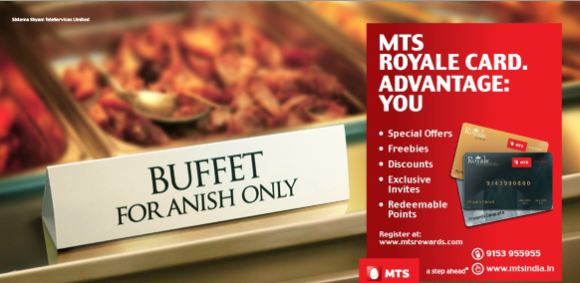 Called the MTS Royale, this programme will be offering attractive benefits to MBlaze customers which will include various special rewards and benefits across diverse categories like Restaurants, Multiplexes, Lifestyle & Apparels Stores, Salons, Spas, Beauty & Wellness and more.

The MTS Royale is a unique privilege card for MBlaze user which will be arriving in three different variants – Platinum, Gold and Silver and will be made available for all prepaid and postpaid MBlaze customers in Kolkata and West Bengal.

To get their MTS Royale loyalty card, MBlaze customers need to register on http://mtsrewards.com and the exclusive loyalty card entitles prepaid MBlaze customers to accumulate reward points on recharging their data connection. Postpaid MBlaze customers can accumulate reward points on bill payment of their data cards.

MTS MBlaze users can get a minimum of 10% discounts on the billing at popular places like Maaya, Mocha, Pizza Corner, Opium and many more places if they carry their MTS Royale Loyalty card with them.

Users will be entitled to earn the points according to the below slabs:
| | |
| --- | --- |
| Royale Silver Card | 1 Bonus Point on every Rs 100 spent |
| Royale Gold Card | 3 Bonus Points on every Rs 100 spent |
| Royale Platinum Card | 5 Bonus Points on every Rs 100 spent |
And the user will be automatically upgraded to Gold Card if you spend Rs 4500 in next 6 months or to the Platinum Card on the spending of Rs 6000 in next 6 months. To maintain the Gold Status or Platinum Status you need to spend Rs 4500 or Rs 6000 respectively every six months.

The additional points that you earn can be redeemed against a host of exclusive products listed on the MTS Royale Rewards website.

So if you are an MTS MBlaze user from Kolkata and West Bengal Telecom Circle then head over to the MTS rewards site and register to get your card now and avail loads of discounts and accumulate points.