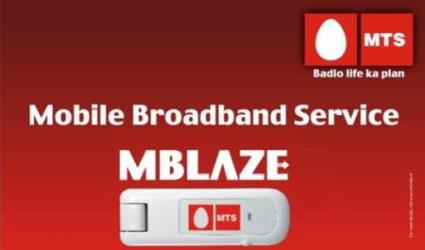 Sistema Shyam TeleServices Limited (SSTL) or better known as MTS were recently in news  for re-branding themselves. Now they are back with a launch of their high speed mobile broadband in Andhra Pradesh covering major cities like Hyderabad, Vijayawada, Vishakhapatnam, Tirupati, Warangal, Rajahmundry and Kakinada. The launch makes them the first telecom operator to provide High Speed Mobile Broadband services at Tirumala Hills in Tirupati. The 'MBlaze' services in Andhra Pradesh will be supported by a strong network of 3000 retail outlets and 40 company flagship stores.
According to Atul Joshi, Chief Sales Officer, Sistema Shyam TeleServices Ltd, "MTS is committed to building a business model based on its unique and differentiated 'Data centric, Voice enabled' strategy. As part of this commitment, the company is rapidly expanding its data footprint in the country and currently offers High Speed Mobile broadband services under the MBlaze brand in over 130 towns across India including 75 of top-100 cities across the country. Specifically, looking at Andhra Pradesh, it is an important market for us and we have earmarked Rs. 30 Crore to roll out our data services across the state."
MTS is providing High Speed Mobile Broadband services in over 100 Indian cities including the top five metros. The company is rapidly expanding its high speed data network and currently addresses over 92% of data potential across India.
"We are excited to launch our High Speed Mobile Broadband service in Andhra Pradesh. Customers in Andhra Pradesh will now be able to enjoy the unmatched MBlaze experience coupled with attractive tariffs and innovative offerings. With the launch, MTS becomes the first and only telecom service operator to provide High Speed Mobile Broadband services at Tirumala Hills in Tirupati," says Mr. Suresh S Kumar, Chief Operating Officer, Karnataka and Andhra Pradesh circles, Sistema Shyam TeleServices Ltd.
People of Andhra Pradesh are offered the following packages and privileges:
MBlaze World Cup Pack: The cricket fever is on, so MTS provides this unique plan, recharging with Rs. 798 gets 5 GB data usage free. Additionally, for every Indian victory in the world cup, MBlaze you get 250MB data usage free. If India wins all its matches including the world cup final, you will get over 2 GB data usage absolutely free.
MBlaze Tariff Advantage: Various data plans have been launched to suit the customer's pocket starting at Rs. 198. Also an option to enjoy unlimited data usage with Unlimited MBlazer priced at just Rs. 999 with 30 day validity.
MTS TV: Using MBlaze dongles and High Speed Data compatible handsets, MTS customers can enjoy video streaming, High quality audio/video download and live play back. With MTS TV, customers can watch over 60 LIVE TV and on demand Video Channels. The customers will get access to a range of News, Entertainment, Sports and Regional channels.

MTS has also tied up with HP to provide an MBlaze prepaid connection for Rs. 999 with any HP laptop.