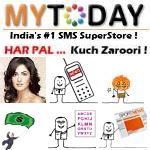 Netcore, the company behind MyToday Free SMS alerts today announced the launch of India's Biggest SMS SuperStore. There are about 200 SMS Channels for the users to choose from. Unlike, MyToday's Free SMS Alerts these premium channels are completely ad free.The price of these premium channels is as low as  Rs. 5/month.
The Premium SMS channels are divided into various categories like  News, Astrology, Bollywood, Sports, Health, Business, Jokes etc. As a promotional offer MyToday SMS SuperStore is offering 30 Free Credits worth Rs. 30. To get these Free Credits SMS 'PAL' TO 09212-012345
Mr. Rajesh Jain, Founder and Managing Director of Netcore Solutions Pvt Ltd said, "Today, we have launched MyToday, our direct-to-consumer store for great SMS content. Think of MyToday as an SMS Store, where you can browse, search and subscribe to premium SMS updates on topics spanning the spectrum. At nearly 200 SMS channels, it is already the biggest in the market.
News, cricket and sports scores, market and stock alerts, Bollywood news, astrology and other updates start at just Rs. 5 per month – these are unmatched prices today.
And that's not all: MyToday features dozens of other SMS channels you won't find anywhere else – industry sector-wise alerts, leadership lessons, daily muhurta alerts, world affairs, politics, how to live green, among many others. All of these are via our best-in-class content partners: Rajshri Media, MyIris, The Economist, Knowledge@Wharton, AstroCAMP. We will introduce more over the next few weeks."
Check out MyToday SMS SuperStore at http://mytoday.com. Read FAQs here.
If you are intrested in receiving Mobile related content visit http://mytoday.com/store/products/MTDY-MOBILE
The subscription rate of these SMS channels is very low as compared to the similar services offered by providers of premium SMS channles. What do you think about Netcore's MyToday SMS SuperStore? Share your views.