It is a well-known fact that Apple doesn't give RAM details of tablets or smartphones out in the public. Unlike Android smartphones, iPads are very secretive of their innards. So, when Apple launched the new iPads this year at the annual developer conference, we were intrigued.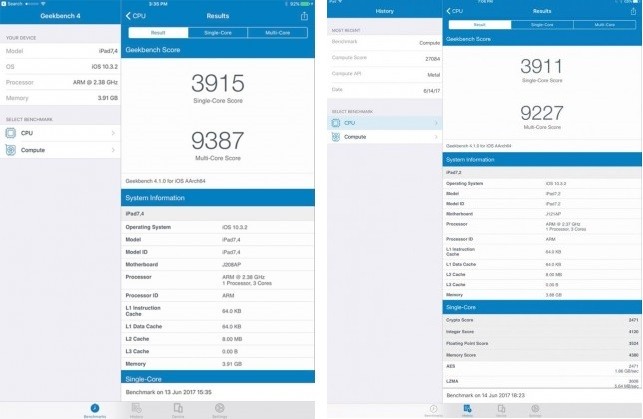 But, we don't need Apple to blurt out each and every spec detail when we have tools like Geekbench. The upgraded iPad lineup too was given the Geekbench treatment. Both the 10.5 inch version as well as the 12.9 inch have the same 4 GB of RAM. And, Apple has put it to good use. So far, reviews have pointed to the fact that both devices are great multi-taskers.
That, along with the new A10X chip brings some serious muscle to the iPad lineup. Geekbench results prove the results are quite staggering with single core score at 3,900 points and multi-core scores are 9,000. It is pretty much unrivalled. The six-core A10X chip offers 30% better performance than the previous generation.
The iPad Pro 10.5 starts at $649 and the bigger iPad Pro 12.9 inch starts at $799.