New WhiteMagic mobile display by Sony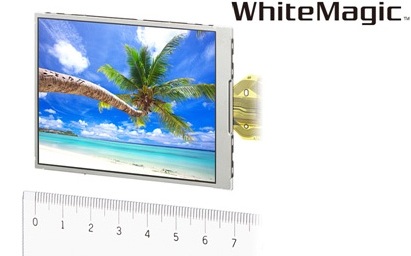 Sony has announced a new 3-inch TFT LCD screen called the WhiteMagic display. The display is aimed at smartphones and is a 3-inch TFT LCD's which 1.23M-dot full VGA resolution. For this new display, Sony has added a white pixel to the Red-Green-Blue pixels and developing an algorithm to correct picture distortion which is called the RGBW method.
The display has two modes, the low power mode in which the LCD runs at 50% brightness and uses 125mW which is similar to LCD's of the current generation. The other modes is the outdoors mode in which the display's brightness can be boosted from 470 cd/m² to 1,000 cd/m², while power consumption of the backlight in this mode (300mW) stays about as high as that of conventional screens. This is far more than any Apple, Samsung or LG device. The company plans to start shipping the first samples as early as October at a price of $65 each.