Ever since Google revamped the Nexus 7, we have been curious about other devices from the Nexus range – the revamped  models of the Nexus 4 and Nexus 10. Well, it seems that the Google Nexus 5 is on its way and by the looks of it, LG and Google are working on shocking the market with their absolute beast of a smartphone. Nexus 5 benchmark test has appeared on GFX bench site. Not only that, its graphics performance is at par with the just released iPhone 5S and throws all of its Android rivals  out of the water.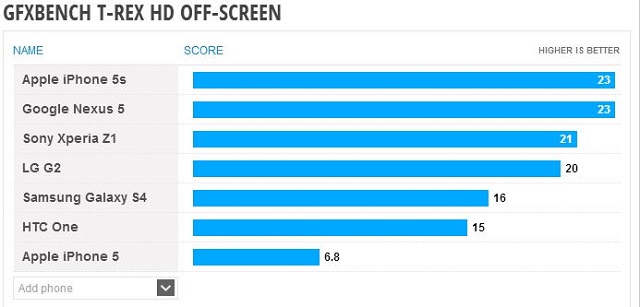 The Nexus 5 scored a T REX HD off screen score of 23.1 frames per second, thanks to its Adreno 330 GPU.
The Nexus 5 will be the first Full HD Nexus smartphone. It might even have more pixels than the iPhone 5S. As far as other specs are concerned, it will sport a Snapdragon 800 processor, a 5-inch 1080p display, a 13-megapixel camera, 2 GB/3GB of RAM, a 2700 mAh battery and most importantly, Android 4.4 – Kit Kat OS.