With the competition among the telecom service providers rising tremendously, Tata Teleservices, Sistema and Aircel are in talks for a merger.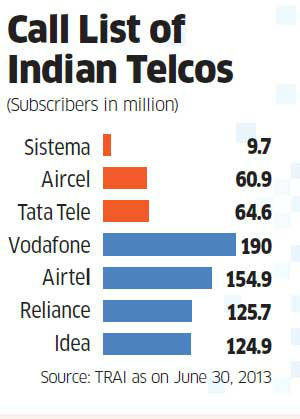 According to sources, Tata Teleservices, which is owned by NTT Docomo and Aircel which have been down in debt of nearly Rs. 23000 crore and Rs. 22000 crore, respectively have decided to merger along with Sistema, which operates in India with Shyam Telecom. It is said that the merger would help to create India's third-largest telecom company with the existing customer base.
If the merger is successful, it will allow the companies to cut costs, share infrastructure and pool capital. Sistema, on the other hand would push in the cash thus making it the dominant shareholder. Speaking about the expanding market, Sistema Global Chief Financial Officer Vsevolod Rozanov said that the Indian telecom market was ready for consolidation and one shouldn't be surprised to see more than two operators come together.