After making the Nexus fans to wait for long, Google finally revealed its new Nexus 5 smartphone running on the new Android KitKat v4.4. Now it seems that the device will come soon to India.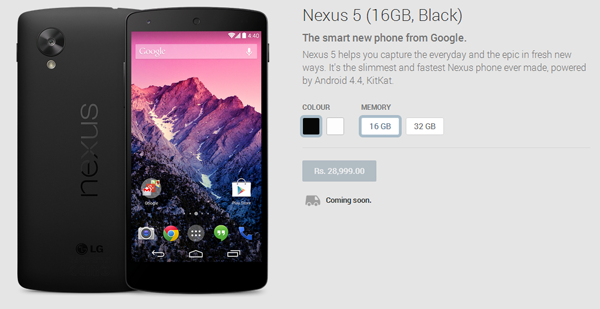 While the Nexus 4 is still not available on the Google Play store in India, the Nexus 5 has been promptly listed after the announcement. However the device is said to be coming soon and could be expected to be available for purchase by the end of the month. As mentioned earlier, the Nexus 5 which is available in a black and white colours, is priced at Rs. 28999 for the 16 GB version and Rs. 32999 for the 32 GB version.
Interestingly, despite the highly upgraded specs of the Nexus 5, the pricing is not too out of track when compared to the Nexus 4 available from other sources. Further sources also claim that the Nexus 5 would be available from outside the Play store.