We all love our super snappy smartphones. After all, who doesn't like a smartphone which is powerful enough to handle anything thrown at it? Our reliance on smartphone sometimes turns into addiction. We all like playing games and watching videos on smartphones, but, we often ignore the harm it does. The blue light emitted is the one responsible for our disturbed sleep patterns. Well, looks like Twitter is trying to reduce it by introducing Night Mode on its Android app.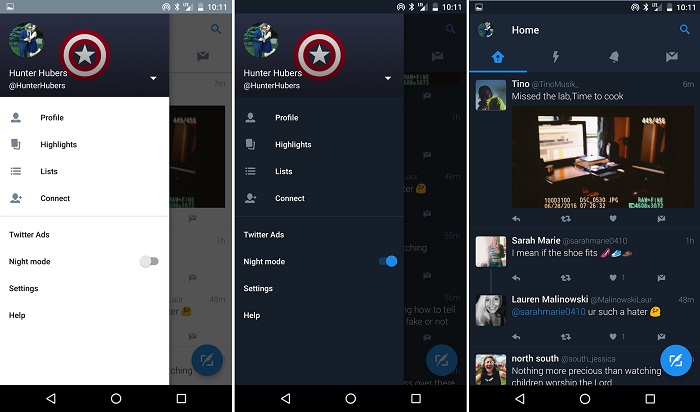 Some users of Twitter's Android app have reported that they are seeing a toggle button in the app which lets them switch between Night Mode and Normal Mode. As soon as they toggle the button to enable Night Mode, the app's interface switches to dark blue shade.
If you use Twitter's Android app, you must be aware that the normal interface of the app employs white color overall. If your smartphone has an AMOLED display, the Night Mode will not only be easy on your eyes, but on your device's battery as well.
For now, this seems to be server-side change. What it means is that even if you are using a Beta version of the app, it's not necessary that you will get this feature. It will be enabled from the server. We would really like to see this feature to be available to everyone soon.
By the way, have you got the Night Mode on your Twitter app?