Nimbuzz 2.0.4 is now available for download for the iPhone and iTouch users. The new version supports HD voice call quality, offline mode, the contact list and profile layout has been changed, multiple contacts sorting options.
The new update allows the users to make HD quality calls to other Nimbuzz users who use the iPhone or the iTouch. The Nimbuzz servers now doesn't route calls through the servers, it makes direct connection between the two mobile devices.
Nimbuzz auto detects 3G and WiFi strength and then displays a HD indicator in the calling screen.
Now the users can also 'go offline' mode from their Nimbuzz application which enable the users to use Nimbuzz without appearing online. The contact list layout has been redesigned for better usability. The 'available, busy, away'  icons will be found at the right and the community icons are placed over the display images of the contacts in the bottom left corner, which gives more space in the interface.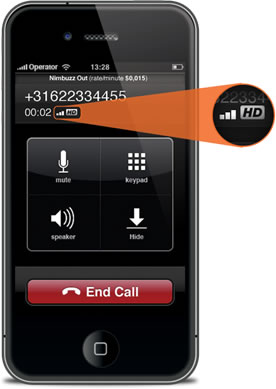 You will be able to download this application from http://www.apple.com/itunes/download/