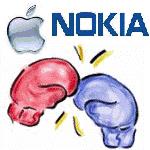 Nokia announced it has filed claims in the UK High Court, Dusseldorf and Mannheim District Courts in Germany and the District Court of the Hague, Netherlands, alleging that Apple infringes Nokia patents in many of its products sold in these countries, including iPhone, iPad and iPod Touch.
This adds 13 more Nokia patents to the 24 it already asserts against Apple. Paul Melin, VP, IP-Nokia was quoted saying  "The Nokia inventions protected by these patents include several which enable compelling user experiences. For example, using a wiping gesture on a touch screen to navigate content, or enabling access to constantly changing services with an on-device app store, both filed more than ten years before the launch of the iPhone."
Amongst others, some of these filings cover touch user interfaces, on-device app stores, signal noise suppression, antenna structures and the integration of multiple radios.
None of the asserted patents have been declared essential to any wireless communication standard.
This posturing is pulled off by the patent trolls at Nokia thanks to the humungous base of 11,000 patent families it has accumulated over the years. What's left to be seen is how deep can Nokia bite into Apple.