Nimbuzz now available on Windows Phone
The popular multiplatform messenger app, Nimbuzz has finally made its way to the Windows Phone platform. A recent blog post by the team at Nimbuzz says that they have officially launched the app and is available on the Windows Phone Marketplace.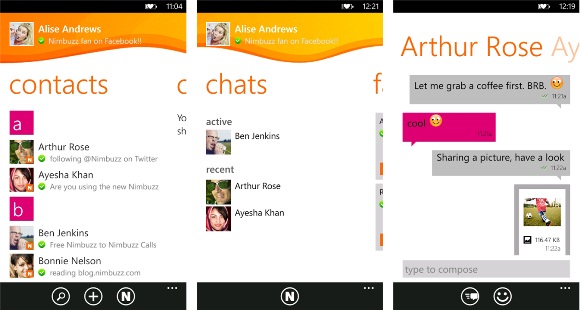 The messenger was already available on Android, iOS, Symbian, BlackBerry, Java, PC and Mac, and now it adds Windows Phone to its list.

Here's what the blog post says:
The wait is over! You asked for it, and here we are… Nimbuzz Messenger for Windows Phone 7 is now available in the Windows Phone Marketplace for downloads. Enjoy the Nimbuzz experience on your WP7 phones, enabling you to connect with your buddies on Nimbuzz, Facebook, GTalk, Yahoo Messenger and MSN/Live Messenger on the move.
So yes, it will have all your favourite messaging platforms and you can download the app by hitting the Windows Phone Marketplace download tab below.