Nokia 719 appears in SIG Bluetooth filing, May arriving at MWC
Back in December, we were expecting Nokia to probably going to launch a Lumia 719 with the Lumia 900 the CES, but that didn't happen as we only saw the 900 getting unveiled. But that doesn't mean that the Lumia 719 is not coming forever.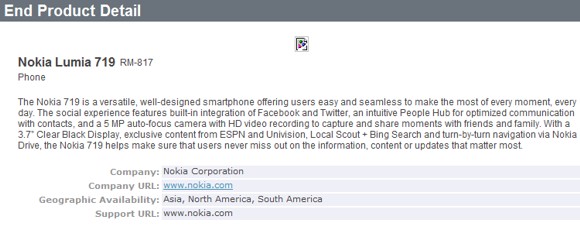 Accompanying the Lumia 900's international variant and the Lumia 610, we can also see the Finnish giant unveil another Windows Phone running device, the Lumia 719 at the upcoming Mobile World Congress (MWC) this weekend.
The Nokia Lumia 719 has been spotted in the Bluetooth SIG filings, going by which the device has been approved and destined for the Asia, North America and South America. Going by the specs revealed in the filing, the 719 will be having a 3.7 inch ClearBlack Display with a 5 MP camera at the rear capable of HD recording.
Now this seems to be an iteration of the Nokia Lumia 710 as there is not much difference in the specs. No more information is available but we are hoping to see the device at the MWC.