Nokia announces two new entry-level handsets, the X1-01 and the C2-00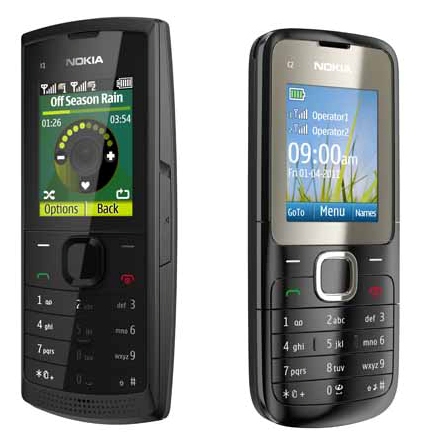 Nokia has just announced two new dual-SIM handsets the X1-01 and the C2-00. Both are entry-level handsets offering great battery backup and are quite feature rich.
The X1-01 is an upgrade from the X1-00 offering 43 days standby time and 13 hours talk time and about 36 hours while playing music. It has a pretty loud speaker, said to be enough to serve as a makeshift home-entertainment system and the loudest and clearest speaker Nokia has ever produced. Other features include microSD card support of up to 16GB, FM Radio, MP3 player, 3.5mm audio jack and a torch light on the top. A unique feature of the handset is that it can remember the settings for up to five separate SIM cards, and also lets you give each SIM its own logo, music signature or ringtone.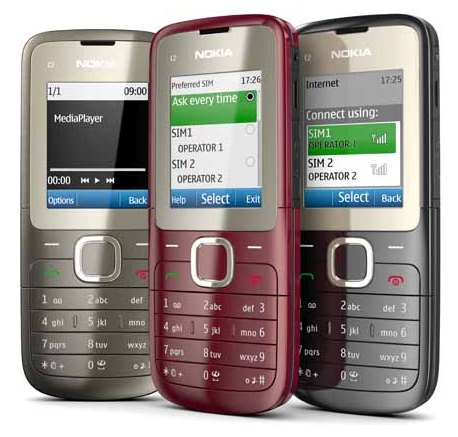 The C2-00 is a Series 40 equipped handset offering features like internet access, a web browser, Nokia Messaging for email, a VGA camera, support of up to 32GB of storage using a microSD card and offers 19.2 days standby time, with 5.75 hours talk time. The dual-SIM feature of the C2-00 allows one SIM card to be stored internally, like a traditional phone. The second card is accessible through a slot in the side so you don't have to open or even switch the phone off to change SIMs.
In selected markets, the two phones will be offered with Ovi Life Tools: bringing news, market prices, entertainment, health advice and education services.
The Nokia X1-01 and Nokia C2-00 will ship this quarter in India, China, South-East Asia/Pacific region, Middle East and Africa, Eurasia and Brazil. Before local taxes or subsidies, the X1-01 will cost about Rs. 2100/- while the C2-00 will cost about Rs.2800/-.