Nokia announces X2-02, Music centric Dual Sim mobile
Nokia has today announced the Nokia X2-02 which is the successor to the X1-01 Dual-Sim phone. The X2-02 comes with Easy Swap feature and dual-standby. It has an internal FM antenna, MP3 player, dedicated music keys, recording capability, an in-built loudspeaker for music playback, and 32GB of memory space. It has a unique "Play via Radio" feature allows you to record songs directly from the radio, and then share playlists through your home music system, your car, or with other mobile phones.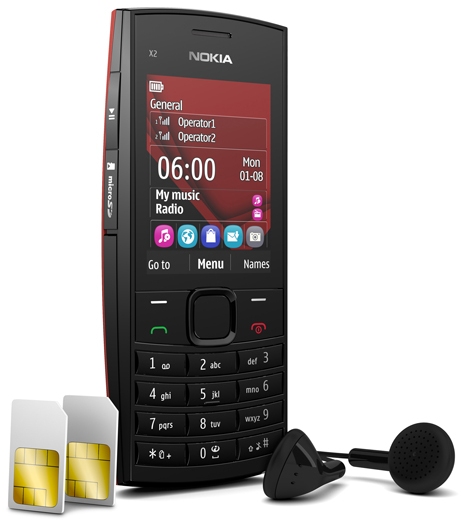 The X2-02 with Easy Swap can allow you to change SIM cards quickly and can remember up to 5 SIM cards. Using the SIM manager you can manage up to 5 SIM settings and also name each SIM. The phone measures 113 x 50 x 15 mm and weighs just 93g including the battery. The display is 2.2-inch, 240×320 pixels, and it comes with a 2-megapixel camera at the back.

The Nokia X2-02 features the Nokia browser which gives easy access to the internet. There are also dedicated Facebook and Twitter clients which can be launched directly from the home-screen. And it also supports IM, email and chat clients. The X2-02 will be available in Bright Red, Dark Silver, Orange, Violet and Ocean Blue colours and it has a standby time of up to 18.5 days and a talk time of up to 9.7 hours.
The X2-02 is to cost around EUR 60 before applicable taxes and subsidies. No date of release has been given but we can expect this low end dual-SIM handset to visit us soon.