Nokia has finally launched its Asha series phones, revealed at the Nokia World 2013 event in India. All three phones are a follow up to the immensely successful Nokia Asha 501 smartphone. All three have upgraded hardware and software to look up to.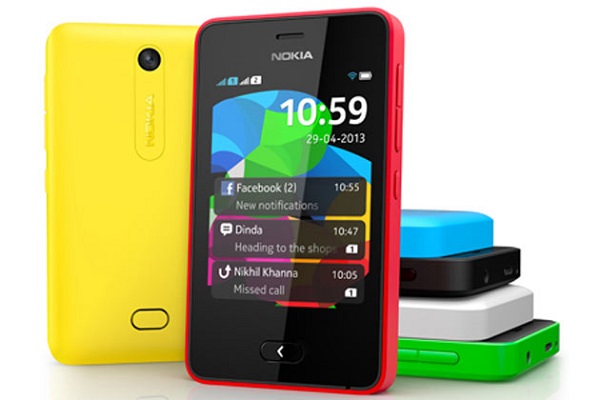 The Nokia Asha 500, 502 and 503 have some similar features mostly. All three phones have dual SIM connectivity along with 64 MB RAM. The difference lies in the screen size though – while the Nokia Asha 502 and Asha 503 both have 3-inch screens, the Asha 500 phone has a slightly smaller 2.8-inch screen. It also has a 2-megapixel camera and supports 2G.
The Asha 502 and Asha 503 are almost the same smartphone with just one difference – the Nokia Asha 503 supports 3.5 G while the Nokia Asha 502 only supports 2G.
Otherwise, both phones come with Nokia Asha v. 1.1, a 5-megapixel camera and 1100 mAh batteries.
The Nokia Asha 500 comes for Rs. 4499 and comes with a special offer of free WhatsApp access for Reliance customers. On the other hand the Nokia Asha 502 comes at Rs. 5969 and is bundled  with 500 MB of free 2G data for Idea users. The Nokia Asha 503 comes at Rs. 6799.
Nokia Asha 500 Specs:
2.8 inch display
320 x 240 pixels resolution
64 MB RAM
Nokia Asha v1.1
2-megapixel camera
1200 mAh battery
Nokia Asha 502 specs: 
3 inch display
320 x 240 pixels resolution
64 MB RAM
64 MB internal memory
5 MP camera
Nokia Asha v1.1
1110 mAh battery
Nokia Asha 503 specs: 
3 inch display
320 x 240 pixels resolution
64 MB RAM
64 MB internal memory
5 MP camera
Nokia Asha v1.1
1110 mAh battery