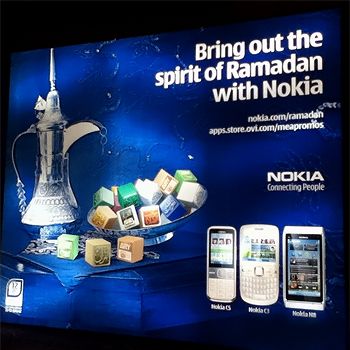 Nokia has announced a number of applications for the holy month of Ramadan and Eid-Ul-Fitr. The apps are aimed at helping believers observe the holy month of Ramadan with greater ease and convenience.
Zakat Calculator: World's first Zakat Calculator launched for Nokia devices helps you calculate Zakat easily. Type the amount of income, silver and gold and the user will get the result on spot. This Application provides all the information one needs about Zakat, including conditions of Zakat, spending channels, types of Zakat, and Zakat Al-fitr. Moreover, users can get the latest conversion rates for all currencies such as Euro, Dollar, Egyptian pound etc from on line sources without any efforts or extra fees.
Zakat is the third pillar of Islam. The main idea behind zakat is that all the wealth that a person possesses does not belong to him/her, but to Allah and anyone who is in need should have a share of it. Zakat or giving a part of your wealth as charity is an act of worship.
Qibla Direction: For the first time, enjoy Qibla application with panorama technology, which gives the user a feel of actually being present in a mosque. The application shows the correct Qibla direction easily, based on the preselected country and city without GPS. It also shows the Qibla direction based on the user's current location; all of this is through multilingual user interface English and Arabic.
The Qibla is the direction that should be faced while praying. Qibla is important because it gives the worshipper a sense of unity, uniformity and discipline.
Prayer Times: The application provides prayer timing and also alerts the user before each prayer, ensuring that one does not miss a prayer time. It also allows users to easily switch their mobile into the silent mode during the prayer.
Prayer, the second pillar of Islam, carries great importance in a believer's life and is vital to attain success in this life and hereafter. Following the testimony of faith (belief in one god and his messenger) is the commitment to perform prayer, which if performed at their correct times and complete in bowings, prostrations and humility will guarantee forgiveness from Allah and everlasting paradise.
Idul Fitri: The Idul Fitri is a theme app that can be used on the day of Eid to bring out the feel and essence of the festival.
Visit http://store.ovi.com for more