A few weeks back I got the opportunity to visit the Nokia factory in Sriperumbudur in the state of Tamil Nadu. I have been writing about the Mobile industry since December 2008 but never before I got an opportunity to visit a factory where phones are manufactured, so when Nokia called me and asked me if I was interested, I said yes without a second thought.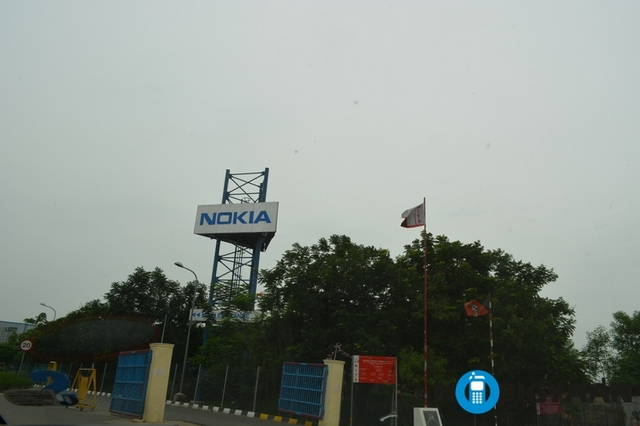 So let's begin the unforgettable journey….
We landed at the Chennai Airport in the morning and from there we headed to the Nokia factory in Sirperumbudur. Once we reached the factory we were greeted by Mr. Ritchie Rice, Senior Manager. We were then informed about what Nokia was doing to bring a better change in the lives of people in and around Sripeumbudur, basically I got to know about the wonderful activities which Nokia is doing there as a part of their CSR. While knowing all this was interesting, but I was more keen on visiting the actual production area to see how the phones, which millions of people use, get manufactured.
After the initial introduction, we headed to the actual production area. We needed to wear a lab coat and covered our shoes with some kind of cloth made to cover the shoes. I got to see how Nokia Asha 501 is being made. Usually it takes a little less than an hour to assemble and pack 1 Nokia Asha 501, which is impressive. Nokia assembles and packs thousands of Nokia Asha 501 in an hour's time. It all begins with a single chip, on which processor, camera, display etc. are fitted during the assembling and software is loaded to send it for the final packaging. Just to add, it took less than 20 seconds to load to load Asha Platform 1.0 on 1 device. While some of the assembling was automatic, a part of it was manual as well and packaging was a fully manual process, however it was amazing to see the speed with which those young hands packed the Asha 501. And just to let you know average age of a worker in a Nokia factory is 25 and there are more female workers than the male ones.
Nokia manfuctures only basic phones and the Asha series phones in its India factory however, I asked Ritchie Rich, if Nokia is capable of producing Lumia series Smartphones in India, the answer was in affirmative and the reason he gave for not producing Lumia smartphones in India is Demand and Supply gap (in production terms), basically it means that Nokia as of now finds producing Nokia Lumia smartphones outside India more cost effective.
One of the interesting thing which I saw was the stress test chamber, Nokia picks up certain number of devices from all their batches and these need to pass various status test like high speed fall on a concrete block, different temperature and humidity test, free fall test and lots of other test to make sure that the phone which you get from Nokia is a quality product.
You can read my Nokia Asha 501 Review here. I leave you with a few pictures from the Nokia factory which is usually inaccessible for normal visitors.