While there are questions raised about Nokia's market potential considering the dominance of Android powered smartphones, the company seems to have made a record sale of its Lumia smartphones in the past quarter.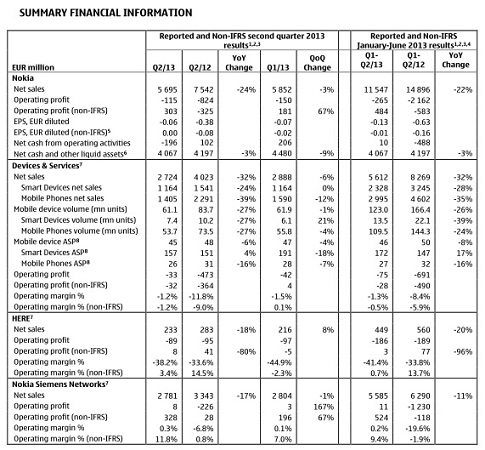 According to Nokia's financial report for Q2, the company has sold a record 7.4 million Lumia smartphones in the past quarter, which is a steep increase over the 5.6 million Lumia devices sold in the first quarter of the year. The 32 percent growth in this quarter has been largely attributed to the launch of the well-priced Lumia 520, especially in markets like China, France, India, Thailand, the UK, the US and Vietnam.
Due to larger sales of the lower-priced devices like the Lumia 520, the average price of Lumia smartphones sold has dropped sharply to 157 euro ($ 206) from last quarter's 182 euro average. Similarly the sales of feature phones have declined immensely, but the entry of the Nokia Asha 501 and Asha 210 helped it start recovering. But the total smartphone sales amounted to 1.164 billion euro ($1.528 billion) and feature phone sales stood at 1.4 billion euro ($1.84 billion). Despite the heavy sales, Nokia's operating margin is -1.2 percent and operating profit was at -33 million euro.