Nokia launches new App – Image Space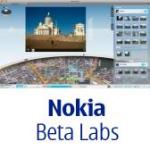 Nokia labs have released a new App – Nokia Image Space. You can simply link your Flickr account to Image Space. After this you can start browsing and sharing photos in Image Space. Your account, the privacy settings and contact lists are handled in Flickr. You see your Flickr contacts and those photos you have access to. Moreover, the comments, tags and photo descriptions can be viewed and edited in Image Space.

When there are enough photos of a given area which have been made publicly available, Image Space generates a 3D presentation from them.
This feature will be ramped up in phases during the next two months.

Nokia has tested it on N97 mini, Nokia 6210 Navigator, Nokia 6710 Navigator, Nokia 6720 Classic. According to Nokia it should work in S60 3.2 and 5.0 devices with inbuilt compass.