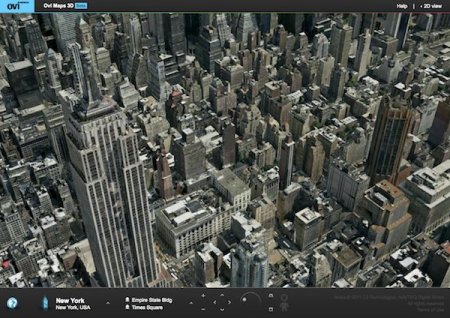 The web version of Ovi Maps has received an update which gives a 3-dimensional feel to the maps and lets users explore places on a whole new level. Nokia has joined hands with 'C3' which is the leading provider of 3D mapping solutions, offering photo-realistic models of the world. Users can now scale up and down and move around objects buildings and structures experiencing a virtual perspective of new places from bird-eye view. The beta service for now features 20 metropolitan areas, and is said to increase over time.
Nokia's photorealistic 3D models of metropolitan areas initially will include:
– Barcelona
– Boston
– Chicago
– London
– Copenhagen
– Florence
– Helsinki
– Las Vegas
– Los Angeles
– Madrid
– Miami
– Milan
– New York
– Oslo
– Prague
– San Francisco
– Stockholm
– Toronto
– Venice
– Vienna
"Ovi Maps' photorealistic 3D models of metropolitan areas are a significant step towards our vision of bridging the real and virtual world, with location-based services being the glue," said Michael Halbherr, senior vice president, Nokia.
Check out the video: