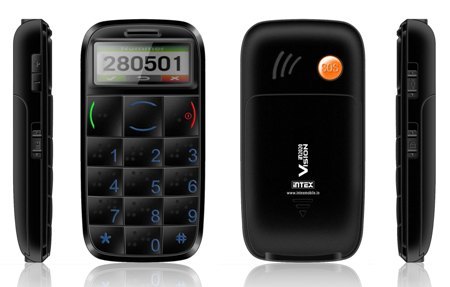 Intex Technologies in collaboration with the National Association for the Blind has launched a mobile phone – INTEX VISION – especially designed for the visually impaired. The Intex Vision has a large Braille keypad which is specially designed for visually impaired people. There is also a feature called the 'Talking Keypad' which gives an audio feedback when a key is pressed. Another unique feature is the SOS feature which saves four emergency numbers and by pressing the SOS button a call is made automatically to the first stored emergency number. The handset has a simple user interface and a very basic design, however there is no compromise on features which includes an audio player, dual-SIM, wireless  FM radio, expandable memory of 2 GB, torch light, auto call record, mobile tracker, dedicated one-touch key for locking the keypad, a phone memory of 1000 contacts and SMS memory of 250 messages.
Mr. Shailendra Jha, DGM-Telecom, Intex Technologies said "Intex believes that simple and affordable technology can do wonders in enhancing quality of life of differently-abled people. India has the largest number of blind people in the world and NAB is the best platform in the country to reach to them. INTEX Vision is just a small gesture to help empower the visually impaired population by bringing connectivity within easy reach"
"Blindness is a disability which could be overcome with training and guidance. The INTEX Vision phone is an ideal tool for the visually impaired people to satisfy their communication needs. It can play a very useful role in their integrated development" said Mr. Mohinder Kapur, President, National Association for the Blind.