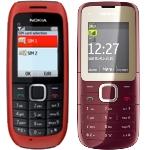 Nokia India today unveiled its long awaited 2-in-1 dual SIM solutions in India – the Nokia C1 (C1-00) and Nokia C2 (C2-00).
Nokia C1 is priced at Rs 1999 and will be the first Nokia mobile phone to feature a 2-in-1 SIM solution.  Nokia C1 offers the 'call divert' feature, which will ensure that they never miss a call from either of the two SIMs. Moreover, by simply holding down a key, people will be able to switch between the two SIM cards in the phone. It is a dual SIM mobile phone but not dual standby which mean only one SIM will work at a time.
Nokia C1 offers a standby battery time of up to six weeks, the longest ever for a Nokia mobile phone, especially useful in those parts of the country where access to electricity is sometimes limited. The standard flashlight is paired with a vivid color screen and FM radio with standard headphone jack.
Nokia C2 will be available later this year or early next year. It comes with Nokia's Ovi Life Tools and Ovi Mail. Nokia's Ovi Life Tools provides users information related to healthcare, agriculture, education and entertainment, whereas Ovi Mail offers email accounts. The Nokia C2 comes with a FM radio and music player and a massive amount of music storage with the phone supporting micro-SD cards of up to 32GB.