Nokia launches Lumia 610 in India for Rs. 12,999
Nokia India has today officially announced the addition of the Nokia Lumia 610 and Nokia Lumia to its existing range of Windows Phone smartphone in India.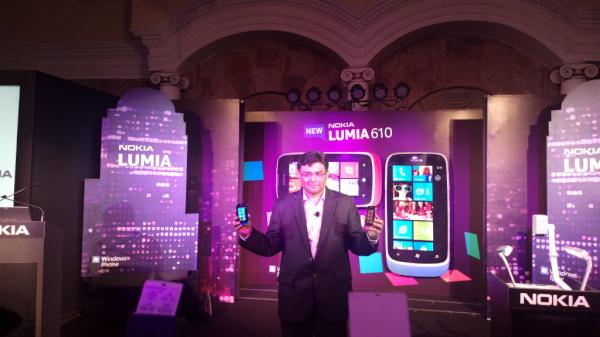 The Nokia Lumia 610 is cheapest Windows Phone smartphone ever and also brings in a major change to the OS as it goes on to support RAM as less as 256 MB. But still with such low specs, the smartphone manages to retain the nice Windows Phone experience on the smartphone.
If you have forgotten as to what specs the Nokia Lumia 610 arrives with, then it includes:

800 MHz processor

256MB of RAM

3.7 inch display

800×480 pixels resolution

5MP camera

8GB of internal memory,

Wi

-Fi, Bluetooth, HSUPA and HSPDA connectivity,

microUSB

,

Latest Windows Phone 7.8 OS
Also the Lumia 610 is now poised to enhance the camera experience and arrives with Smart Group Shot which allows you to put the best bits of pictures, all into one! Also panorama shots, self timer and action shot are included in the Lumia 610.

With the Lumia 610, Nokia mix radio makes its entry into the subcontinent for free with 150 stations and works offline too. Also the Lumia 610 comes with DRM free music, up to 45 lakh songs available. And tracks which are available for online streaming can be downloaded. It also arrives with Nokia Maps, Nokia Drive and Nokia Traffic, which is a complete mapping solution for smartphone.

The Lumia 610 will arrive in four colour options: Magenta, White, Blue and Black and will available in all

over India from tomorrow for a price of Rs. 12,999.