Nokia Lumia 800: First impressions
The Nokia Lumia 800 has been with us for a week now and it's the first time in many days that we are excited to review such a device. It is a smart handset with an 8-megapixel camera and Windows 7.5 Mango. So here are our first impressions of the device.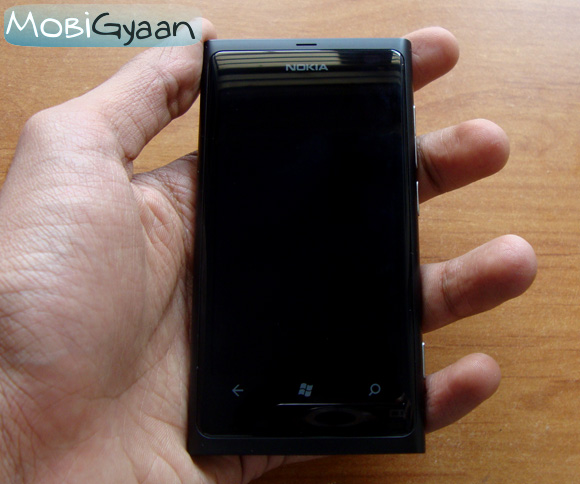 The Nokia Lumia is endowed with a form factor reminded us of the N8 handset. At the first look, the handset is well, different. Its polycarbonate body feels a wee bit weighty. But its curved glass screen that is the star here. It seems sooth as silk and you want to keep running your hands over it for the first few day. One thing though, it gets a bit smudgy.
> Nokia has kept the traditional camera and voice adjustment buttons on the side, while power button is situated between the two.
> The charging panel on the top opens by pressing the [o] icon at the top towards the left, adjacent to the 3.5mm audio jack.
>
Well, it's Windows 7.5 – Mango. It is a breather for those who have grown bored of Android/ iOS kinds of interfaces. The messaging is easy; the interface is simple and easy to use.
>
The screen is quite responsive and the icons, smartly arranged.
>
The picture gallery is quite interesting and the pinch and zoom just takes your heart away.
And here is what doesn't work for us:
>
The phone is quite attractive but it seems a bit complicated. The slide-out SIM tray could be figured out only when we actually read the instruction manual, word-by-word.
>
Your normal SIM doesn't work in Nokia Lumia 800. After spending a chunk of money on the handset, get ready to spend some more on acquiring a MicroSIM from your provider.
>
The screen gets smudged easily.
>
The phone is a dummy without an Internet connection. In a country like ours where Wi-Fi isn't available everywhere, that's a bummer. Plus, you also need a Windows Live ID to use features such as Xbox live for the first time.

We were left hungry for apps. The free games can't hold you for long and the paid ones were a tad bit expensive as compared to Android. Angry Birds comes for 160 Rs. which is quite sad.
>
The touch keyboard is a bit small, in case you have big fingers.
>
Well, the touchscreen and camera are beyond amazing. The apps are something you haven't seen before. But there is much more that remains to be seen about the Nokia Lumia 800.
Stay tuned for our full review of this handset.
Before I wrap up, I would like to inform you that this handset is priced at Rs. 28,499 at Flipkart and available at most mobile shops across the country.