Early Monday morning and we have something interesting to share with you. Remember the Nokia 5700 which arrived with a

rotatable

bottom for easy access to camera and music player?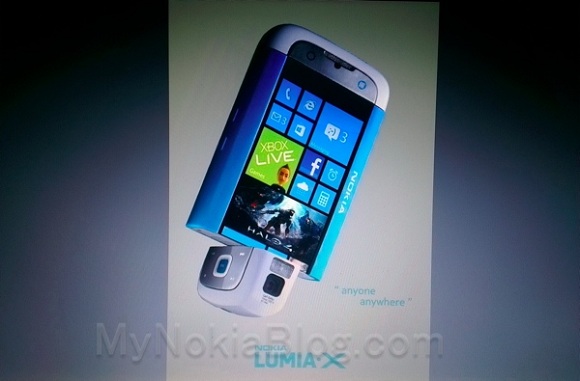 Well now according to a picture posted by MNB which was tipped to it suggests that Nokia might be planning to a

smartphone

with similar design but on the upcoming Windows Phone 8 platform called the Nokia Lumia X.

Now we do know that this is something hard to digest but why not just think in a different way and imagine how you would respond to a Windows Phone 8

smartphone

with a similar design.

The tipster has also said that the Finnish giant plans to unveil the Nokia Lumia X in September and also gave a few specs which include an HD AOLED ClearBlack display, Snapdragon S4 processor, 8 MP camera with Carl Zeiss Lens that can be

rotatable

.

Also there will be dedicated keys for playing games and the device can be twisted to access music quickly. Oh and remember

N

-Gage? Well it seems that it is back again with the Lumia X.

The tipster said that he got the picture from a friend who worked at the Nokia Design Studio and also went on to apologise if the information turns out to be true.

We personally doubt about such a

smartphone

coming to the market so take this bit of news with tons of salt and also do let us know what you feel about the design.