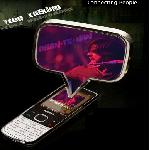 Kaminey.. ehm ehm..well I am not telling you this. Nokia has tied hands with the upcoming film Kaminey to promote their newly launched handset Nokia 6700 Classic. Nokia has come up with, Nokia Meets Kaminey contest here in India. As i had quoted in my previous post about the new handset and its techninal specifications, but today i bring to you the indepth story of what they are upto now. Nokia has tied up with Vishal Bharadwaj's Kaminey that is slated to release on 14th of August 2009 for a brand promotion of the either parties.
Kaminey means Rascals in Hindi is one of the most anticipated films of 2009 directed by the ace director, Vishal Bharadwaj. The film stars F(s)hahid Kapoor in a double rola and also Nokia's brand ambassador Priyanka Chopra.So the story that follows, Nokia meets Kaminey contest, Nokia wants you to upload pictures taken by you on your Nokia phone onto their website

Nokiameetskaminey.com

The winners will get an axclusive chance to meets with the Kaminey stars and who knows you could be one of them jingling among your friends to have met Shahid and Priyanka. But.. ya there's a big but though, the pics have to be "naughty" and "wicked" which follows the esence of the movie. So don't just wait tie your boots and make a run for it and bring out the real kamina inside you and just pray that you get chosen for your kaminapan. Do post some of yout album links in here and cheer us up. Good luck guys and gals too.