Nokia N9 availability list updated, still no India in the list

According to MyNokiaBlog, the N9 will now be available in more countries. The availability list has been updated and now shows more countries in which the MeeGo powerhouse will be sold.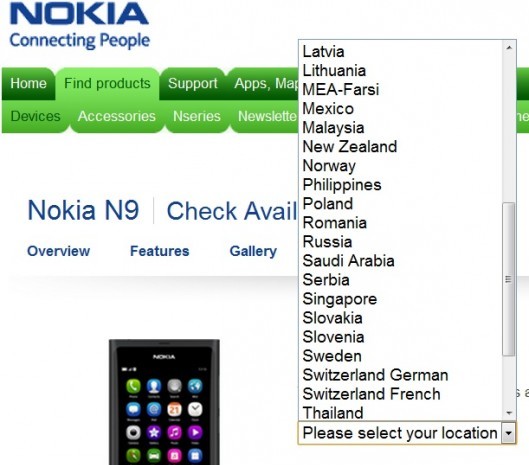 There has been a whole lot of confusion as to what all regions will be getting the N9. The official list confirms some countries however there are some confirmed countries that will be selling the N9 but are not included in the new list. India is still under the unconfirmed section but we hope we get the N9 as we just cant wait to get our hands on the new MeeGo platform.
The refreshed list is as follows:
Argentina

Austria

Bangladesh

Brazil

Bulgaria

Caribbean

China

Chile

Columbia

Czech Republic

Denmark

Estonia

Finland

Hungary

Indonesia

Israel

Latvia

MEA (Farsi)

Mexico

Malaysia

New Zealand

Norway

Philippines

Romania

Russia

Saudi Arabia

Singapore

Slovakia

Slovenia

Sweden

Switzerland (German/French)

Thailand

Turkey

UAE

Ukraine

Venezuela

Vietnam