A study conducted by Localytics has revealed that Nokia is now ruling the Windows Phone market with a share of 59% of all Windows Phone devices out there.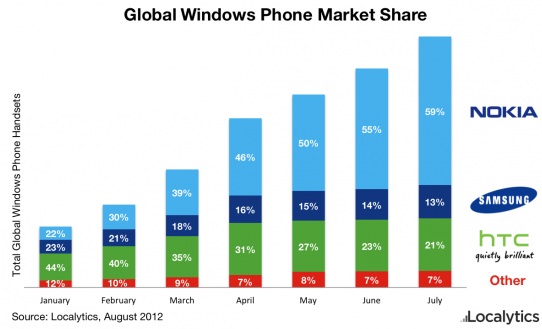 Now this may be great news for the Finnish giant but it is not as great as it would have expected. The reason is that the Windows Phone now accounts for just 3.5% of all the smartphone shipped around the world.
And this could be a cause of worry for both Nokia and Microsoft who have bet all of their resources with each other. And the return is not as fruitful as the companies had expected. Nokia's share of the Windows Phone market has surged from just 22% which was recorded back in January to 59% in July.
 
So this increase in the Windows Phone market of Nokia might be great but not too good for the company to benefit over the long run.
 
The sales would have taken more hits as soon as news went out that the current Windows Phone 7.5 smartphones will not get the Windows Phone 8 OS upgrade and will only have to settle with Windows Phone 7.8 which will bring a few features from the new OS to current Windows Phone smartphones.
 
Now Nokia is expected to unveil its new Windows Phone 8 devices at the upcoming Nokia World event on September 5th where we also expect Microsoft to disclose more features that Windows Phone 8 OS will arrive with.