MTS India has today announced the launch of three new Android 2.3 Gingerbread running smartphones – the MTS MTag 351, MTag 352 and MTag 281.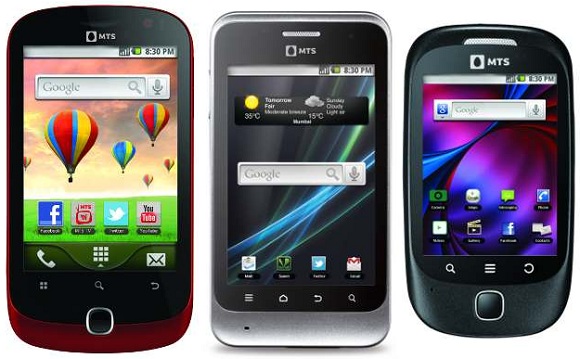 All the smartphones have been priced affordably and arrive bundled with Unlimited data usage and Unlimited MTS-MTS calls for 3 months. The details of the smartphones are after the break.

MTS MTag 351
The MTag 351 arrives with a 3.5 inch capacitive screen, is powered by an 800 MHz Qualcomm processor, and features a 3 MP CMOS sensor camera at the rear with Flash along with a VGA front facing one. The mobile will come bundled with 2 GB memory card in the box and it can be expanded up to 32 GB.

Users can also use the smartphone as a mobile hotspot. It runs on Android 2.3 Gingerbread OS and will arrive in two colour options, Spicy Red and Bluish Black. There is a 1300 mAh battery included to power the mobile. The MTag 351 is priced at Rs. 7499.

MTS MTag 352
Next in the line up is MTag 352 which arrives with almost similar specs except that it lacks the front camera and arrives with a 1400 mAh battery. It has a 3.5 inch screen, 800 MHz processor 3 MP camera at the rear, 2 GB memory card, Android 2.3 Gingerbread OS.

The MTag 352 is priced at Rs. 6499 and will be available with bundled usage.

MTS MTag 281
The MTag 281 is the cheapest of the three mobiles launched by MTS and arrives with specs which include a 2.8 inch screen with QVGA resolution, powered by 800 MHz processor, 3 MP camera at the rear, 2 GB memory card in the box, memory expandable to 32 GB, mobile hotspot and a 1200 mAh battery.

The details of the offers that will come bundled with these devices for the first three months are as below:

All three Smartphones come with pre-embedded MTS TV application allowing its users on the move access to Live TV with more than 100 channels.