In an interesting reply to a tweet, Nokia Saudi Arabia's Twitter account has let slip an interesting piece of information.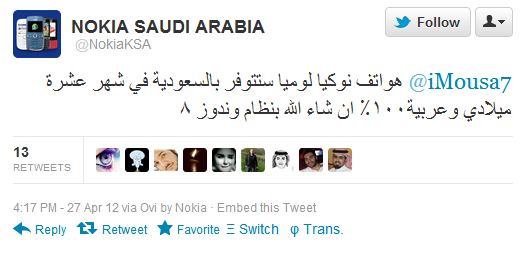 When a Twitter user asked them about the probable arrival of the Nokia Lumia 900 in the Kingdom, Nokia Saudi Arabia replied that Lumia device will arrive in the Saudi Arabia in October with Windows Phone 8.
Now this goes on to prove and we can expect Microsoft to unveil the Windows Phone 8 OS to us in early September, thus paving way to the release of the devices in October. But now coming to the most interesting part of the tweet which is, that the Lumia device will arrive with Windows Phone 8 OS on it and it'll also go on to have 100% support for Arabic.

Translated Tweet:
Until now Windows Phone Mango is lacking in this support for Arabic which in turn is holding back Nokia in releasing its Lumia range of devices in the Kingdom. But with this confirmation, we definitely feel that Nokia will firstly target the Saudi consumers who have been waiting for the Arabic support.

There have been numerous rumours previously that the first gen Lumia devices and other Mango running devices will never get the Windows Phone 8 (Apollo) update when it actually arrives and then these tweets happen. Indeed it is very confusing but it is too hard for all the people who just bought the Lumia devices if the WP8 update is not made available.

We hope we get some kind on confirmation from Microsoft on this very soon so that all the clouds of confusion are cleared.