While we already have heard rumors of the launch of the 6 inch Nokia phablet being postponed to October, Nokia now has announced its upcoming event and we already know what to expect.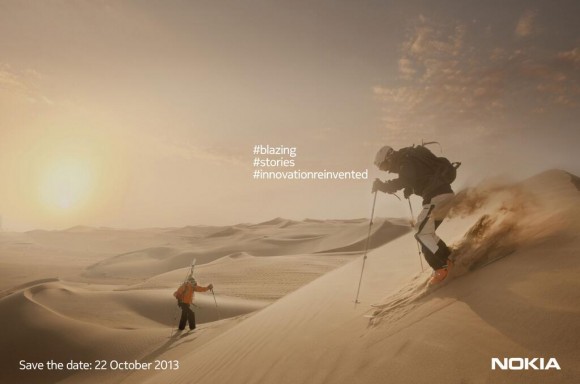 In a tweet from Nokia's twitter account, Nokia teased an event scheduled on October 22, which is coincidently the rumored launch date of the Nokia Bandit. While Nokia hasn't mentioned any specific details about the event, it listed a set of tags like #blazing, #stories and #innovationreinvented with the image of a person skiing in the desert in the background.
The event would prominently revolve around the Nokia Lumia 1520 codenamed the Bandit, which would be Nokia's first 6 inch phablet with the GDR3 update of the Windows Phone 8 OS, which supports fHD resolution and quad core processor architecture. At this moment it is not yet known if the Nokia Windows RT tablet which is rumored to launch in September would also feature at the October 22 event.