It seems Nokia is living in an alternative reality than us. After selling out its devices and services division for peanuts to Microsoft, the company, instead of keeping its head down and concentrating on building a future is instead challenging the kings of the hill – Samsung and Google in a single post on Twitter. Look for your self at this post from Nokia Germany.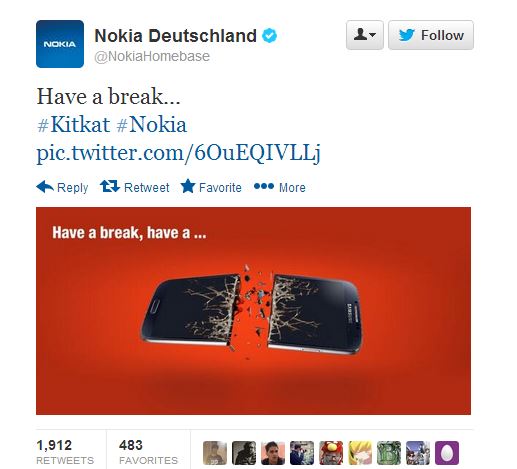 As you can see, this is Nokia's take on the classic KitKat ad and a threat to both Samsung and Android, although they hardly have any cause for worry. In fact, it seems that since it has 7.17 Billion $ in its coffers and one division is there with Microsoft which it still believes could come out with a money churner, but still there is no need to stick it out to Samsung and Android. And also, such empty threats just make us even more skeptical about its future.
Nokia is still battling for a share in the smartphone market and its mocking of Android 4.4 – KitKat OS, is not needed. Despite such efforts by Nokia, the reality cannot be obliterated that Samsung sold 70 Million smartphones compared to Nokia's Lumia sales of 7.4 million handsets.