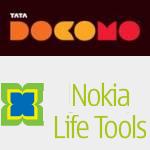 Nokia India today announced its tie-up with Tata DOCOMO. As per the Memorandum of Understanding (MOU), Nokia and Tata DOCOMO will collaborate to offer Nokia Ovi Life Tools services to all Tata DOCOMO subscribers. Both partners will work together to deliver news alerts in the fields of Agriculture and Education on schemes and other relevant information directly to thousands of users using this service.
Tata DOCOMO has launched services across 17 circles and soon will be a pan India operator. Tata DOCOMO customers can get access to Nokia Life Tool service which will be available via SMS, USSD, GPRS and STK, wherein, the SMS can be availed through a short code '55555' desginated by Nokia.
While the Nokia Life Tools Agriculture service available across 18 states and in 11 regional languages, it offers consumers a choice of 2 plans. The basic plan at Rs 30/month, provides daily weather updates and relevant agriculture-related news, advice and tips. The premium plan at Rs. 60/month, provides the closest market prices for three crops chosen by the subscriber, as well as weather information, news, advice and tips.
The Nokia Life Tools Education service is available across India and consumers can subscribe to their preferred educational service such as Learn English, General Knowledge or Exam Tips for Rs 30/month
Nokia Life Tools supports 11 Indian languages of Hindi, Malayalam, Kannada, Tamil, Telugu, Punjabi, Marathi, Bengali, Gujarati, Oriya and English.