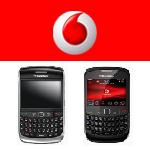 Vodafone recently launched new BlackBerry plans for prepaid subscribers in some of the telecom recently, though Vodafone did not make any official announcement about the launch of these plans.
The new plans offer unlimited internet, chat and email at Rs. 15 for 1 day, Rs. 44 for 3 days, Rs. 100 for 7 days and Rs. 399 for 30 days. However, as I mentioned earlier, these plans are only for Prepaid subscribers and Vodafone Postpaid subscriber still have to pay Rs. 1099 for the same.
Its very obvious that Vodafone will come out with new plans for its Postpaid customers as there is a big difference between what a prepaid customers have to pay and what a postpaid customer is paying.
Vodafone will launch new plans for Postpaid BlackBerry customers soon. This is apparent from Vodafone India's Tweets :