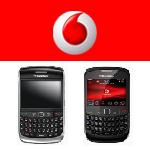 Vodafone will soon announce new BlackBerry Plans.
Vodafone.in's Mumbai Page is updated with details of new BlackBerry Plan for Prepaid users.  New plans for Prepaid BlackBerry users will offer unlimited internet, chat and email at Rs. 15 for 1 day, Rs. 44 for 3 days, Rs. 100 for 7 days and Rs. 399 for 30 days. I tried to check whether these plans are available for telecom circles other than Mumbai, but I was unable to find similar details on page of any other telecom circle.
To know if these plans are actually available for the users I called customer care of Vodafone Mumbai, the customer care representative was unable to give me any information on these new plans. After this I called one of the Vodafone official, she told me that Vodafone has not made any official announcement regarding the availability of plan and circles in which it will be available. However, an official announcement regarding these plans can be expected in the next week. 
Vodafone may come up with revised Plans for Postpaid BlackBerry users as Prepaid users of Vodafone BlackBerry will have to shell out Rs. 399 for 30 days while pocket of Vodafone's Postpaid user gets lighter by Rs. 1099 every month. Though nothing about revised Postpaid BlackBerry Plan is mentioned on Vodafone India's website but its quite obvious and logical too that Vodafone will reduce the plan charges for Postpaid BlackBerry users also.
Thanks Nikhil