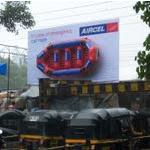 Aircel has taken an Initiative as part of its social responsibility to reach out to the people during heavy rains and help them sail to their destination.
As part of this Initiative Aircel has put up a boat on a hoarding at strategic places where there is water logging and excessive flooding during the rains, thereby causing a lot of chaos and inconvenience to the commuters and pedestrians who get stranded for hours in anticipation for help to come by.
In an endeavor to reach out to all and make a difference in hard times, Aircel has come out with a dinghy-boat tied to a hoarding and when rains hit hard the rope can be easily cut and the boat is swung into action by the volunteers of Aircel to help ferry the stranded citizens safely from one point to the other. 
This Initiative has been carried out in Delhi – Minto Bridge;  Pune – Deccan;  Hyderabad – Hi-Tech City Subway; Bangalore – Koramangala; Cochin – Vytila; Chennai – Madipakkam & Velachery; Mumbai – Andheri Subway & Milan Subway; Kolkata – Park Circus; UP West – Agra-MG Road; Assam – Guwahati- T.C. Point; Orrissa  – Bhubaneswar- Laxmi Sagar; Bihar – Patna-Dak Bangla and UP East – Lucknow-Sikandrbagh.