With the amazing performance reviews of the Qualcomm Snapdragon 800, sources suggest that Nokia may also be experimenting on the processor to see its feasibility for its upcoming devices.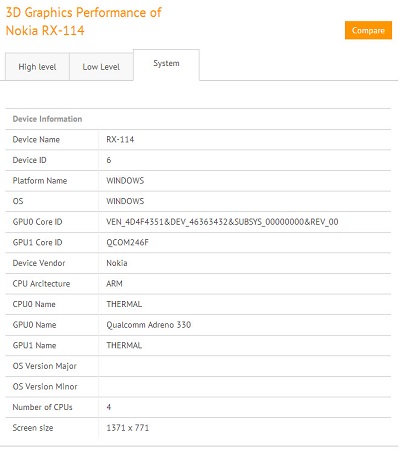 According to results from the GFXBench, Nokia is currently working on a device bearing model number RX – 114, which may be powered by the Qualcomm Snapdragon 800 processor. As the device is said to have a 1371 x 771 pixels resolution, it may not be a smartphone but instead a Windows RT based tablet, as it is very close to the tablet resolution of 1366 x 768.
Nokia, has apparently, already planned an event a launch event in New York on September 26 and 27. While it is still not confirmed what devices are expected at the event, the Windows tablet tops the list. Sources also claim the tablet would employ the Lumia design language with bright colours.
While Nokia has earlier categorically denied interest in the tablet markets, it is quite possible that the company is trying to enter the tablet market, which stats claim is currently growing exponentially. However considering the poor sales of the Windows RT tablets, it might not really be a good idea if the company is planning on going for a similar tablet despite the Snapdragon 800 processor.