We all kind of feel nothing but sad for the Nokia-Microsoft deal. Not only are we skeptical at the $7.17 Billion Price tag for Nokia's devices and services division, we are also sad as consumers because we fear that we might never ever see the Nokia devices that have charmed us for so long.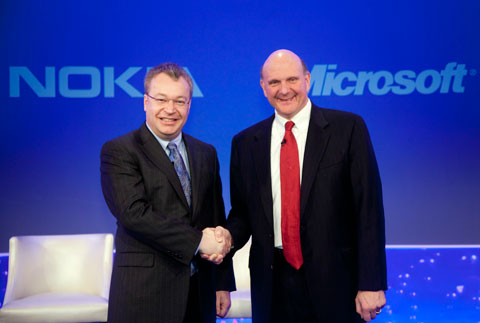 Agreed that Nokia's Windows Phone venture was not going too well and its venture before that, its own Symbian OS wasn't up to market standards, but when it came to hardware, it was still the king. It had durable and high quality hardware whether it be its Lumia series, Asha series or feature phones. Nokia's hardware had far less complaints than any other company on the market, which is why we always dreamed of a day when it would tie up with a great software vendor and come out with beyond awesome phones.
Has that dream bit the dust? Has the Nokia saga finally come to an end? Will it be just limited to some releases over the years like Motorola?
Before we presume the worst of things for Nokia, it is necessary to see what this deal actually means. There are also some other possible scenarios that one should look into. While we are not saying that Nokia will go this way or that, still these are some of the things that could happen:
Scenario 1: Like Google did after the Motorola takeover, Microsoft might shut shop on regular product launches and restrict too a few launches an year. Since Microsoft's initiative in buying Nokia was making its Windows Phone OS better, why would it keep on releasing smartphones under the same umbrella, which would threaten smartphone partners? It might cease production and concentrate on software services, which has always been its prime concern. Since with this buyout, it has promised to be an alternative  to Android and iOS and also promises to offer certain services cheaper than them, this might be it. Yes, we would be sad for dearth of Nokia's hardware in this scenario. Also decreasing competition for brands like HTC and Samsung and every OS being mad after them can decrease competition and seriously affect market economics.
Scenario 2: Microsoft mentions that it aims to earn $40 per unit instead of the current $10 per unit. Also, 9 out of 10 Windows Phones sold are Nokia phones. Shutting shop on Nokia could seriously damage Windows Phones. So, it could be that Microsoft brings out the new range of Nokia smartphone, but under its own name rather than ceasing production. This could go anywhere actually since Microsoft has mentioned that (it's) Nokia would be concentrating on 3 main roles – services, maps and advanced technologies i.e. patenting and inventing. This whole scenario is befuddling. Maybe Microsoft waits it out to see if its venture to woo smartphone makers is really a success and if not it might fall back on well, Nokia.
Scenario 3: Microsoft has just gained rights to mobile phones products for 10 years But, Nokia only refers to its non-smartphone range as  mobile phones smartphones are called 'smart products', which means even though Microsoft might get the rights to feature phones which are Nokia's biggest sellers (#1 in India), Nokia might have the production for its smartphones under its CTO in Finland. Furthemore, since Microsoft has brought the Devices and Services division, which was actually the division that had signed a deal with Microsoft, Nokia might be free to look into vendors such as Google and with $7.17 Billion at its disposal, the world is its oyster. This is a rare possibility but we finally might see a Nokia Android smartphone, since Stephen Elop is gone back to Microsoft and according to the agreement, the CTO is free to do as it pleases – although without the umbrella of 8500 patents that it given over to Microsoft it might be an uphill task.
Scenario 4: Nokia (what would be left of it) just might run a small shop on its own from its CTO. If the deal is closed Nokia cannot use the Nokia trademark on phones from 2014-2016. But after that, it is a free bird to do as it pleases.  Also, Nokia might work on alternative technology (such as Google is doing with the Glass and everything) in the mean time and since it will be free to work on mobile phones from 1st January, 2016, it might even do that afterwards. But, a word of caution, two years off from smartphone industry is like a couple of decades push back in terms of technology. It is an uphill task. Still Nokia has been working on a lot of stuff on the side all  these years but its main focus has been the smartphone business. This might give it an ideal leeway and budget to pursue those dreams.
Also one more thing, if the deal doesn't go through because of shareholders disapproval or for any other reasons, Nokia might be back as before with a $750 Million termination fee from Microsoft  in its coffers.