We have been checking out the new Samsung Galaxy Note5 for few days. The Galaxy Note5 seems to be a great successor to Samsung Galaxy Note 4. As we've got our hands on this device, we will go over everything that's inside this new gadget. Check out the Note5 review below.
In The Box
Samsung Galaxy Note5 with non-removable battery
A user-guide, a warranty card and other manuals
MicroUSB Cable
Wired Stereo Headset
Travel Adaptor
SIM Ejector Pin
Replaceable S-Pen nibs
Design and Ergonomics
Taking a closer look, the Samsung Galaxy Note5 picks up a really sleek metal and glass design while retaining a vibrant and clear 5.7-inch Super AMOLED display. The design and materials used feels much premium as it no longer uses plastic body but a protective glass on both sides. The Galaxy Note5 shares many features from the Samsung Galaxy S6 itself including an improved fingerprint scanner along with wireless charging built-in.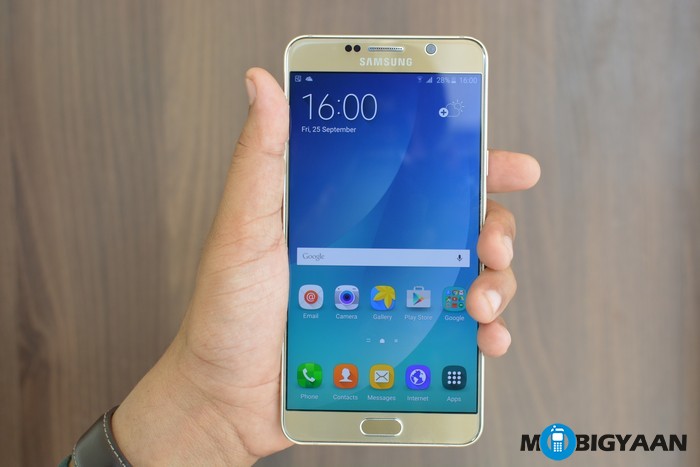 This time, the phablet is slightly thinner in size and lighter in weight than the previous model. The mainframe carries metallic materials seen in the Galaxy S6. The curvy edges look sweet and designed very neatly. You might feel it slippery when you sweat your hands.
We noticed a huge change at the backside, there is no longer a removable back cover but a gorilla glass instead, which is much more prone to finger prints. Pressing down on the back shows no major gaps between the cover and the battery. It features a 16 MP main camera with dual-LED flash and OIS (Optical Image Stabilization) support. There's a heart rate sensor at the back just below the flash that is used to measure your heart beats using S heart app.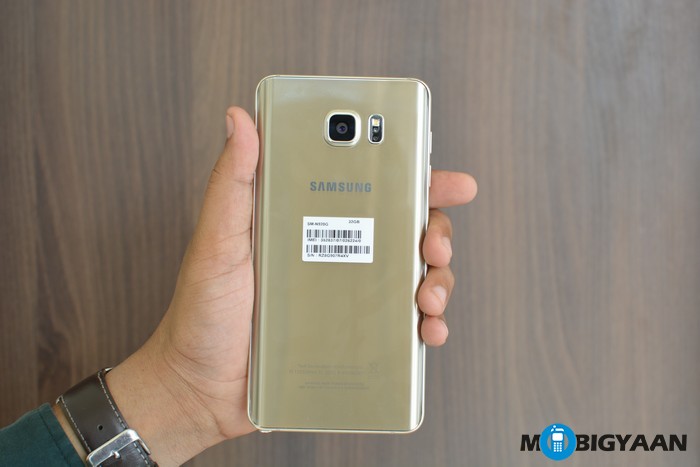 To get an idea about the size of the Note5,  we placed an Apple iPhone 6 and a Samsung Galaxy S6 together with the Galaxy Note5.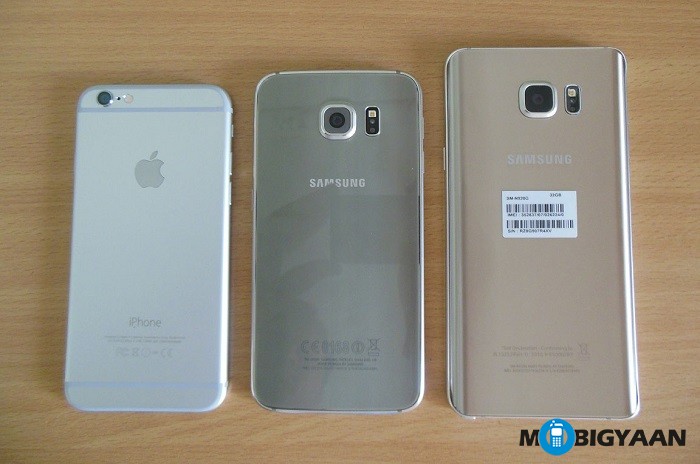 iPhone (Left), Galaxy S6 (Middle), Galaxy Note5 (Right)
The front side has a 5 MP with 120 degrees wide-angle field of view, proximity sensor, and ambient light sensor. The notification LED is hidden on the top underneath the bezel.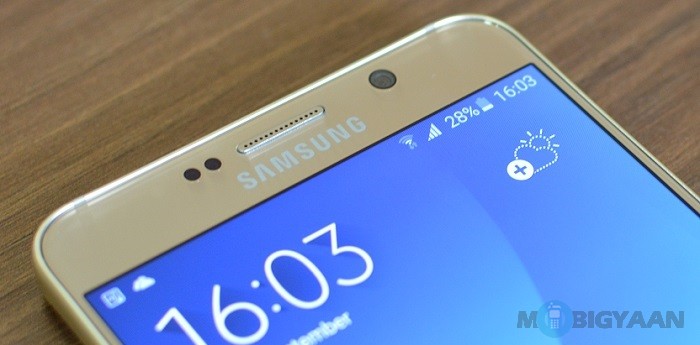 The oval shaped home button contains the fingerprint sensor which looks darn attractive. The home button gives you a really nice feedback.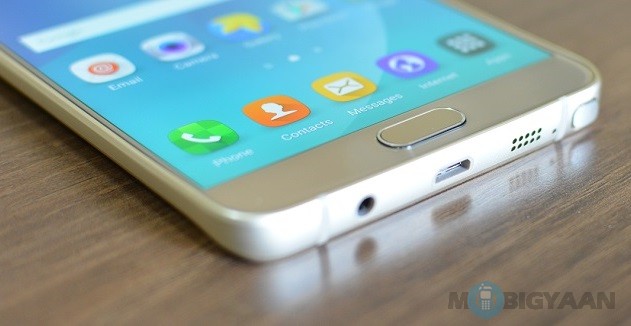 Home button carries fingerprint sensor
The casing is well made, there are no gaps at the buttons. The edges are made curvy to make it hold comfortably and we found no sharp edges on its sides. It's smooth metal frame is a bit slippery, so a case is recommended to prevent it from drops and damaging the sensitive glass front. The left side has 2 separate volume rocker buttons while, on the other side, you can see one power button, everything else is made clean.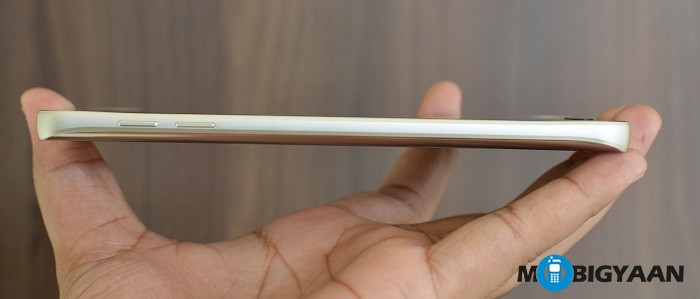 Left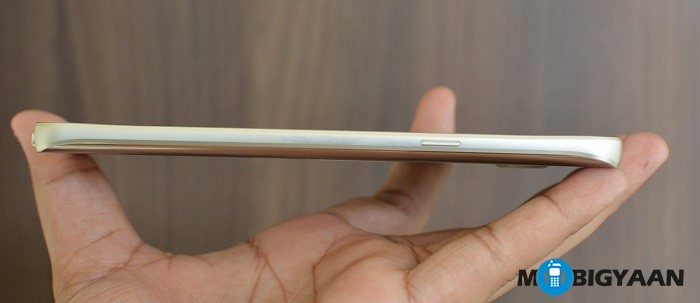 Right
The single speaker located near S-Pen stylus sounds average. The 3.5 mm audio jack is relocated on the bottom. You can see the tiny mic residing between the S-Pen and speakers. The USB port is not newest Type-C but the usual MicroUSB.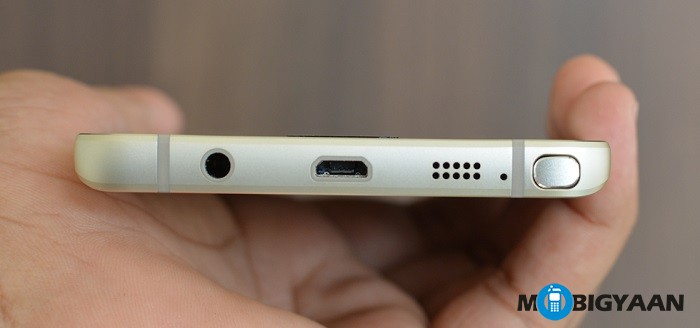 Bottom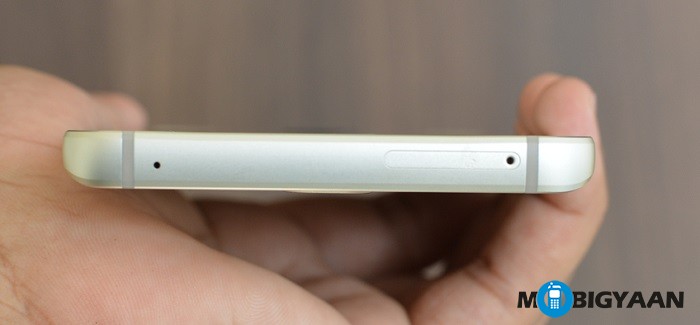 Top
The Galaxy Note5 is 4G-enabled supporting one nano-SIM. The sim tray above needs an ejector pin to insert the sim card.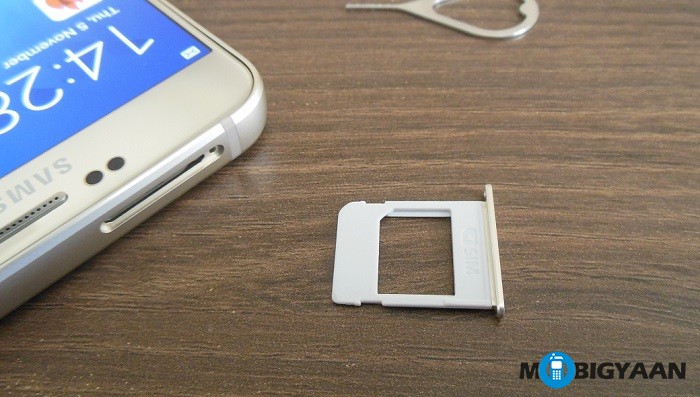 Supports Nano-SIM and 4G Network
Unlike Sony Xperia smartphones, the Note series still remains behind in terms of dust-resistance and water-resistant.
Samsung Galaxy Note5 Specifications:
Operating System: Android 5.1.1 Lollipop with TouchWiz UI
Display: 5.7-inch Super AMOLED display with 1440 x 2560 resolution
Back Camera: 16 MP primary camera with LED-flash and OIS support
Front Camera: 5 MP front facing camera  with 120 degrees wide-angle field of view
Processor: Samsung Exynos 7420 Octa-Core CPU (2.1 GHz Quad-core and 1.5 GHz Quad-core)
Graphics: Mali-T760 MP8
RAM: 4 GB DDR4
Storage: 32 GB or 64 GB
Battery: 3000 mAh
Connectivity: MicroUSB, 3.5 mm audio jack, Wireless Charging, NFC, USB OTG support, Bluetooth 4.2, Wi-Fi 802.11 a/b/g/n/ac (2.4/5GHz), A-GPS and GLONASS.
Sensors: Fingerprint Reader, Heart Rate sensor, Ambient Light sensor, Accelerometer, Gyroscope, Barometer.
Network: 4G LTE, Single Nano SIM (GSM)
Other: S-Pen Stylus
Weight: 171 grams
Dimensions: 153.2 mm x 76.1 mm x 7.6 mm
Display
The screen is probably similar to the one used in Note 4, so you may not be able to notice any major difference in the display. It features a 5.7-inch Super AMOLED 1440 x 2560 resolution with 518ppi pixel density that suits current flagship market. It is covered by Corning Gorilla Glass 4 to protect the screen from scratches.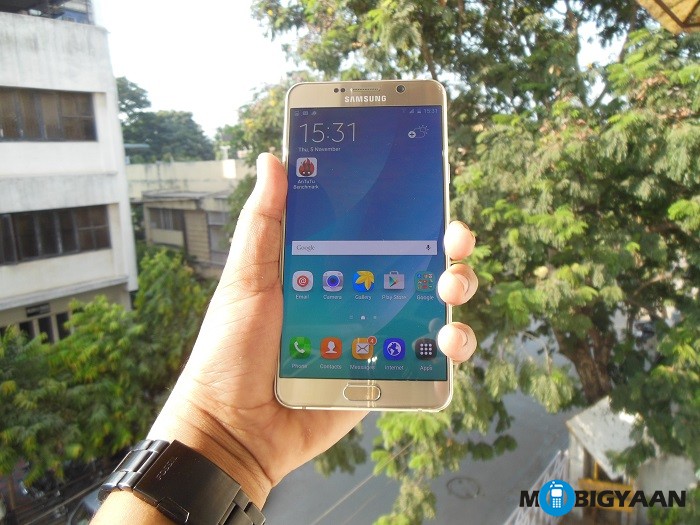 The visibility under sunlight is satisfactory and under shade is pretty intense. The brightness and contrast levels are significantly increased compared to the outgoing models. Due to the AMOLED display, the blacks look clearer and the images don't appear to be washed out. The color reproduction is as close to being accurate. The viewing angles are excellent, you can clearly see the fonts and icons.

Performance
The hardware and the specifications are heavily brought from the Galaxy S6. The smartphone boots up in 20 seconds without any hiccups. We did not experience a major lag in the performance thanks to its octa-core CPU. The Samsung Galaxy Note5 is powered by Exynos 7420 octa-core processor clocked at 2.1 GHz.
There are two quad-core processors, the high-performance 2.1 GHz Cortex A57 is for heavy tasks and gaming while the other 1.5 GHz Cortex A53 is power efficient for normal use to save some battery up. The loading time of the apps is much faster.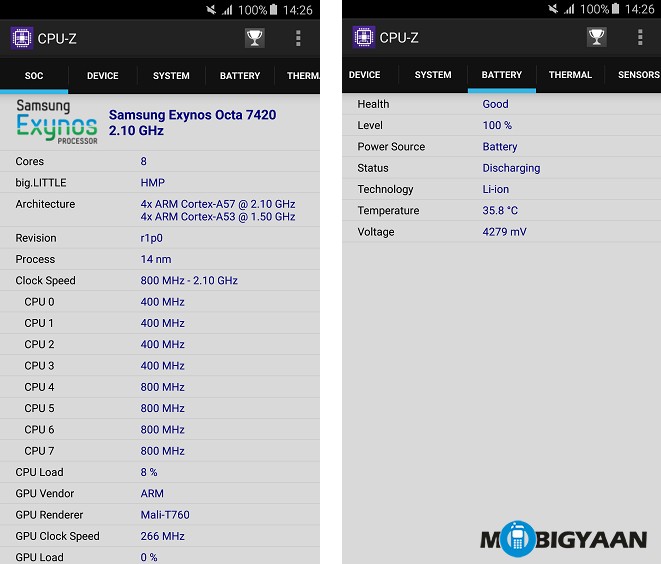 All Cores Running Simultaneously
The Antutu benchmark scored a whopping 67463 points which already bypassed the Galaxy S6 in terms of performance. The Geekbench 3 scores 1472 in single-core performance and 4690 in multi-core performance.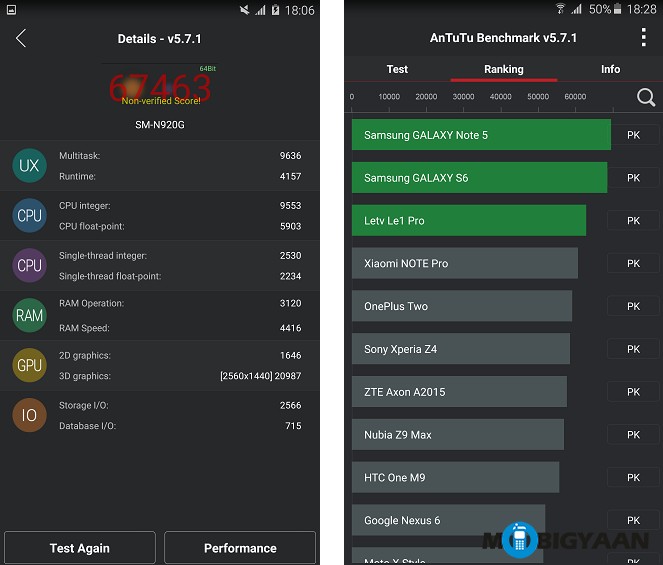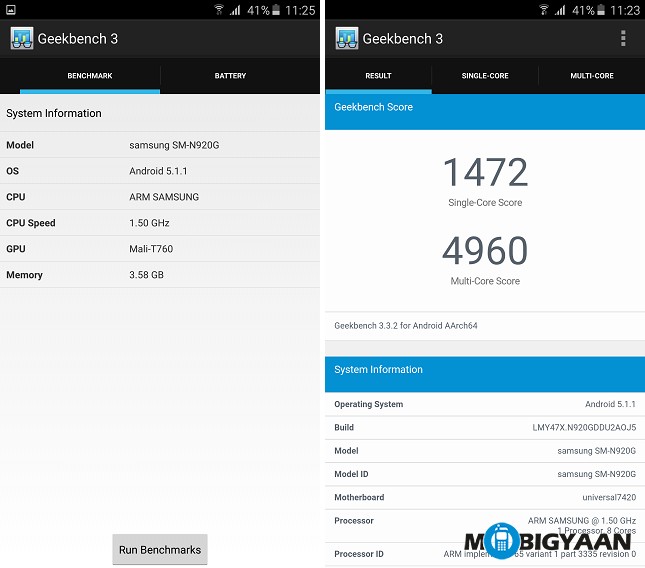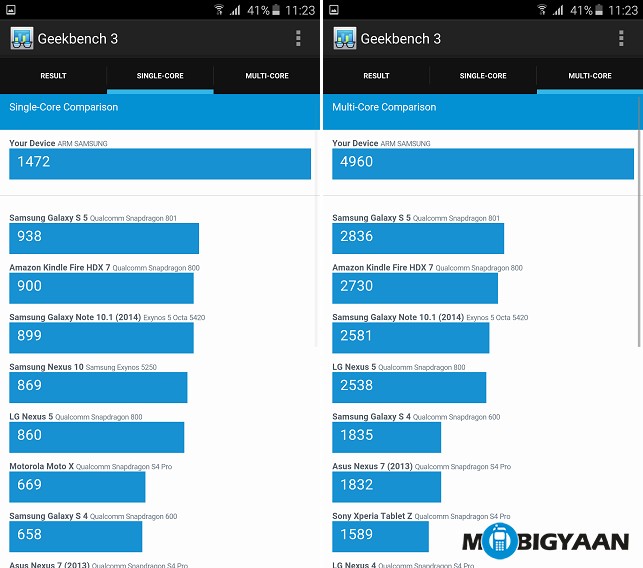 It has the Mali-T760 MP8 graphics which is remarkably good for gaming needs. With its octa-core combined with 4 GB of RAM, it can play almost any power hungry android games you throw at. Real Racing 3, Angry Birds 2, Need For Speed No Limits and 8 Ball Pool are some games we ran without any big lags, the performance of gaming is super smooth. The loading times of the games are blazing fast, a big thanks to its DDR4 RAM. Samsung has notably improved internal storage performance of the Galaxy Note5.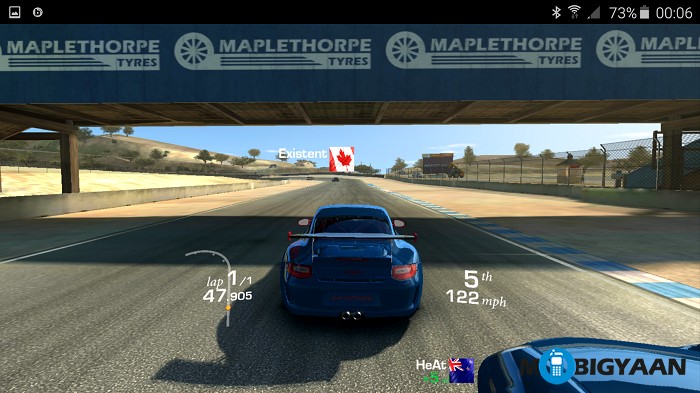 Real Racing 3
It performs exactly like a high-end device. Still, sometimes you may feel the performance is a bit lousy in multi-tasking when using several apps. The apps used early often reload from the scratch. Maybe it's due to the Samsung's bad memory optimization or perhaps the battery saving trait. Well, a software update might resolve such issue.
The Galaxy Note5 comes with 4 GB of RAM installed. The system takes about 60% of RAM and the user gets around 1.5 GB of free RAM. Still the remaining amount of RAM is adequate for daily use. It seems like Samsung did increase the RAM to 4 GB, but for the system not for the user.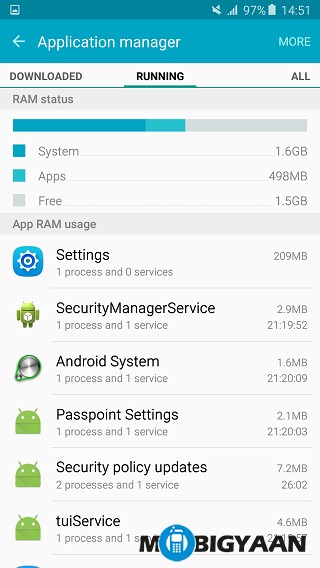 Fingerprint Sensor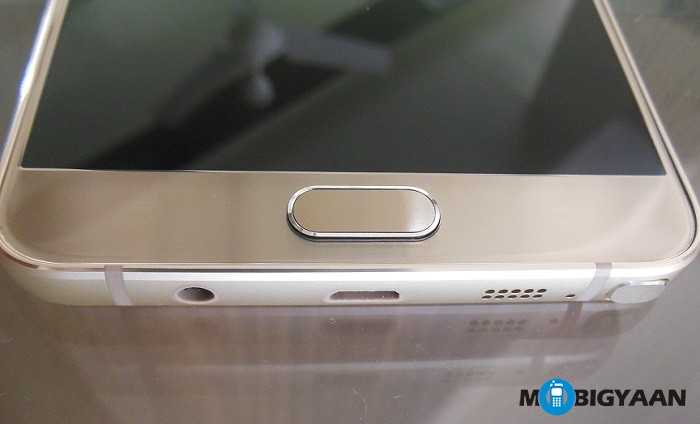 The fingerprint sensor is located on the home button. The setup is quite miserable, it requires 20 finger scans to completely setup the fingerprint. It is fast and unlocks the phone in less than a sec. The only problem we found is it doesn't unlock the phone when in sleep mode, you need to press the home or power button once then unlock it. iPhone and other fingerprint sensor phones can unlock the phone from sleep without even pressing any buttons.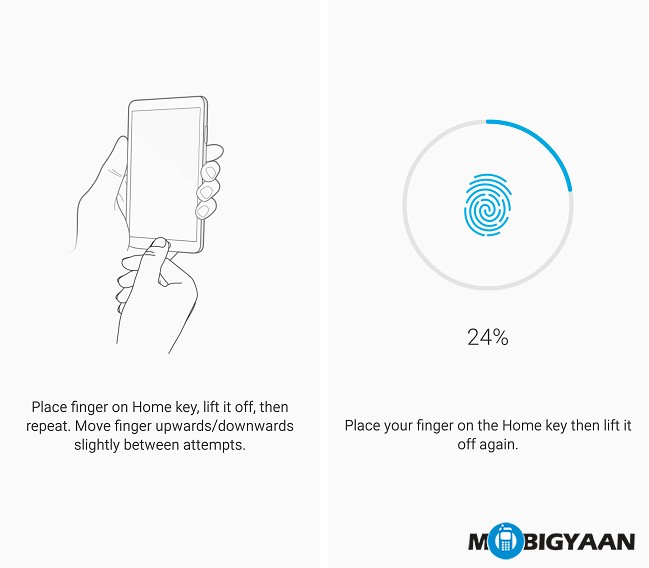 Software and UI
The Galaxy Note5 comes with Android 5.1.1 operating system and TouchWiz UI. Samsung did a good job here slimming down their TouchWiz and removed most of the bloatware apps that came preinstalled, however, the system still takes a huge amount of RAM. Apps like Smart Manager, S Voice, S Health and S Note are some of the apps came pre-installed.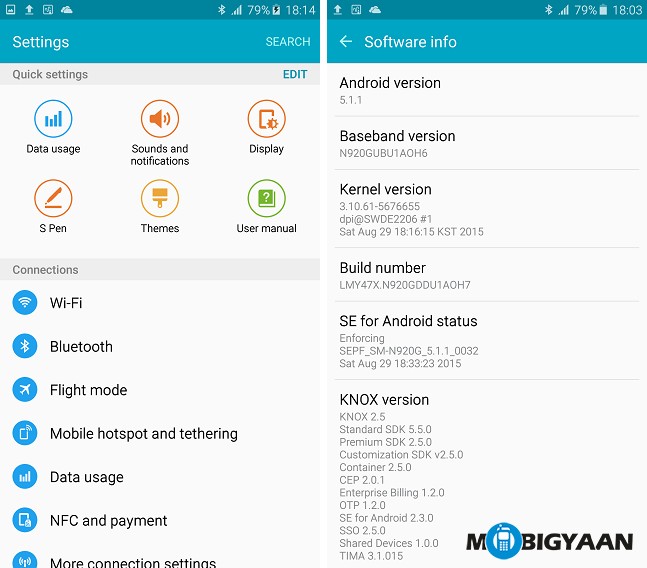 The lockscreen and icons look different  and the UI seems to be updated visually. The user interface was quite smooth, felt lighter and snappier. Features like Air command, S-health and Multi-window are also updated while Samsung pay is added as a new.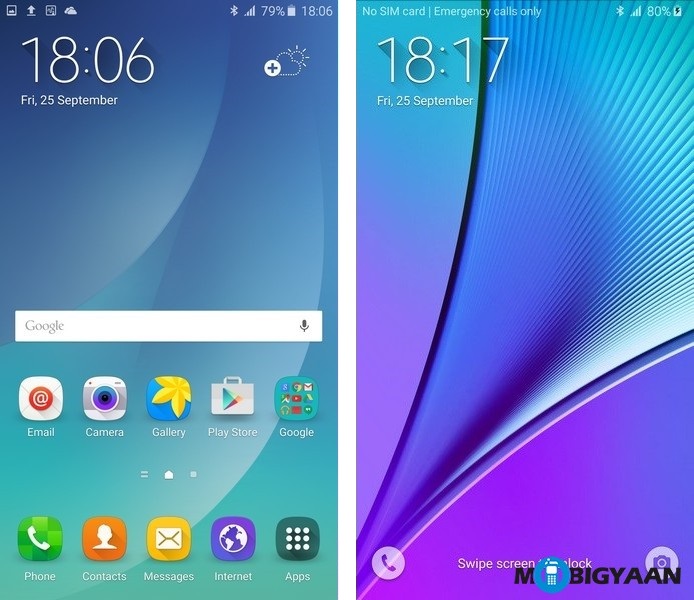 The keyboard supports swipe function and its layout is identical to the one in Galaxy S6. The landscape mode does not fully utilizes the keyboard but suitable to type for a larger screen.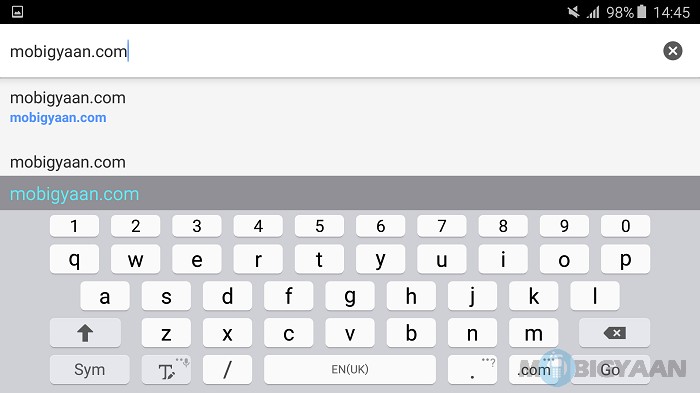 The charging animations are wonderful, you will love it when you plug in a charger either wired or wirelessly. Pressing the left touch button for a longer time activates the multi-window feature. You can reduce the size of the screen for one hand use by pressing the home button 3 times quickly. It can be configured under the Settings -> Display.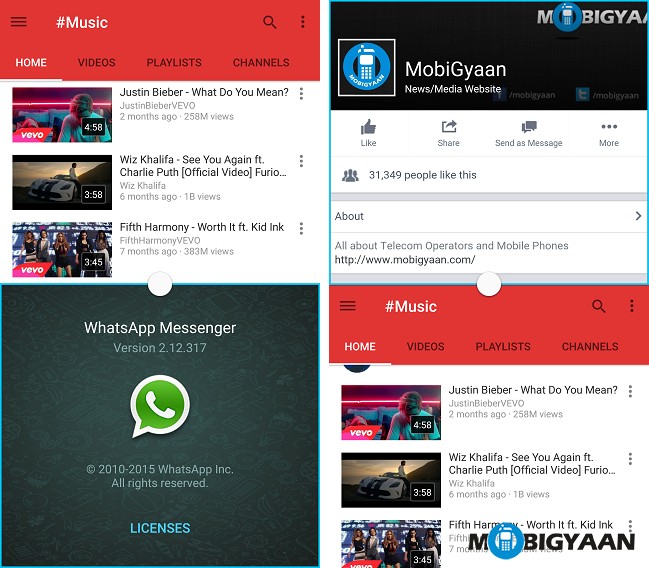 Multi-window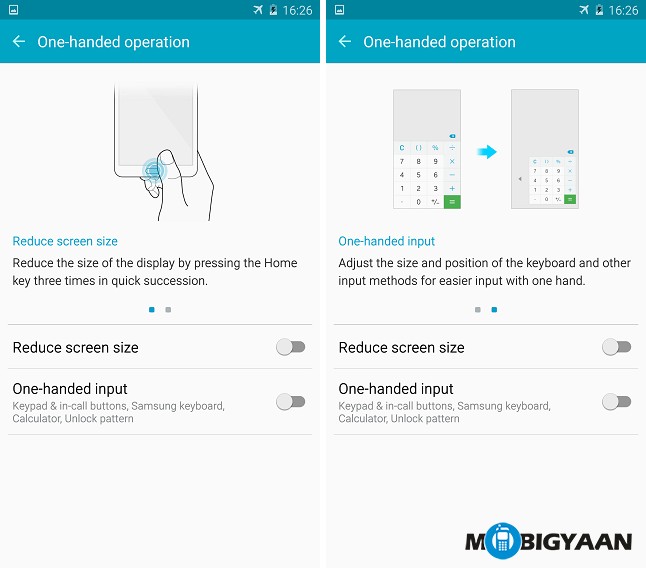 The Galaxy Note5 has one impressive app called S health which monitors your heart beats, oxygen levels and stress levels using the heart rate monitor. There are plenty other items you can add like running, cycling, sports, etc.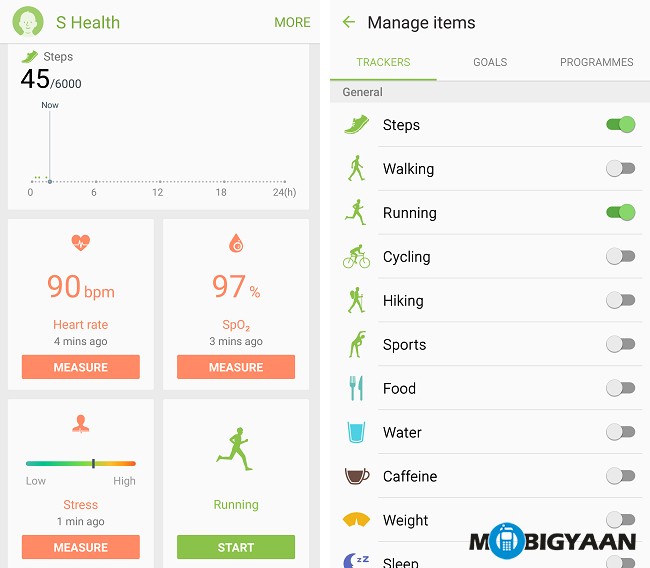 S-Pen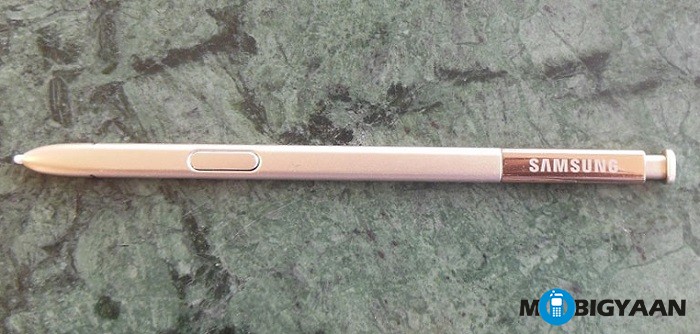 Who needs a paper and a pen when you have the Galaxy Note5. The S-Pen comes with a nice push-button which feels like a retractable ballpen. S-Pen works very smoothly and performs similarly to the Galaxy Note 4. Well, you don't need to apply a hard pressure to write the notes. The stylus fits in perfectly when you slide in, avoiding any damages to the phone.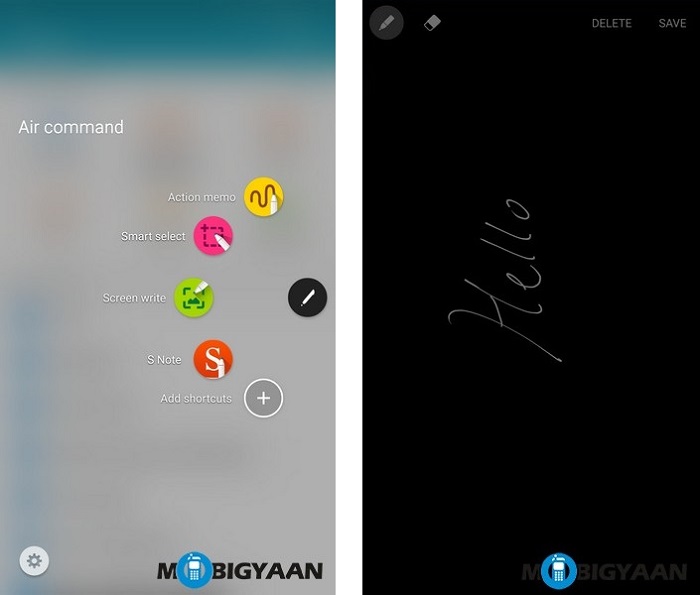 You can see a small white dot moving along with S-Pen movement. When you slide out the S-Pen, the screen activates automatically and you can draw or write a variety of calligraphy. The sharper nib of the pen is ideal for writing. The Air view feature is useful to look for a preview information just by hovering the S-Pen over the screen.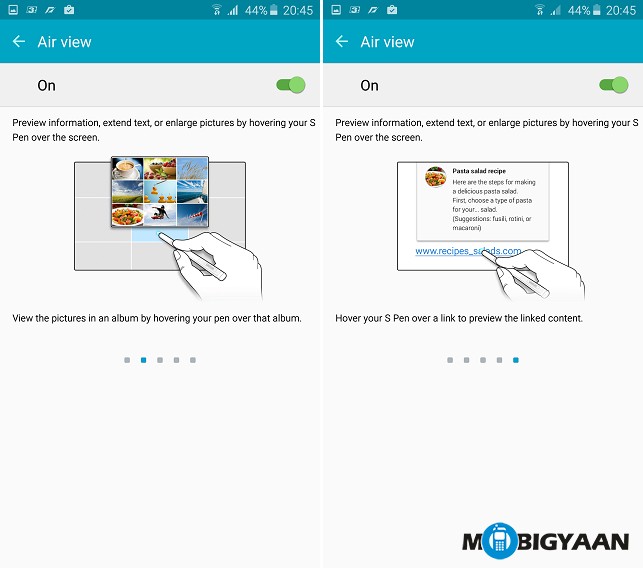 Camera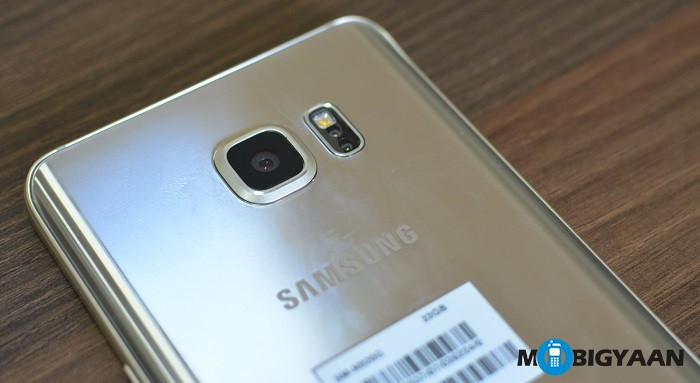 Don't judge a camera by its megapixels. The Samsung Galaxy Note5 has one of the most amazing cameras built ever so far. The primary camera is a 16 MP autofocus with hardware Optical Image Stabilization (OIS) support and LED flash. It gives you the a wide f1.9 aperture to capture stunning shots. The camera comes with a variety of options and effects.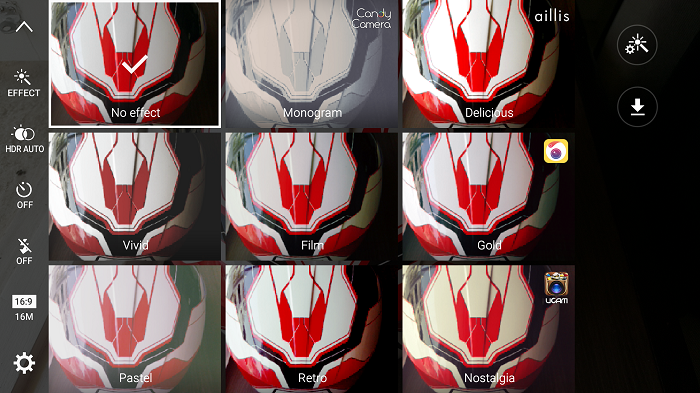 Effects
You can tweak the camera options like pro mode, tap to focus, 360-degree panorama, live broadcast, slow motion, fast motion shooting, and more on the camera interface.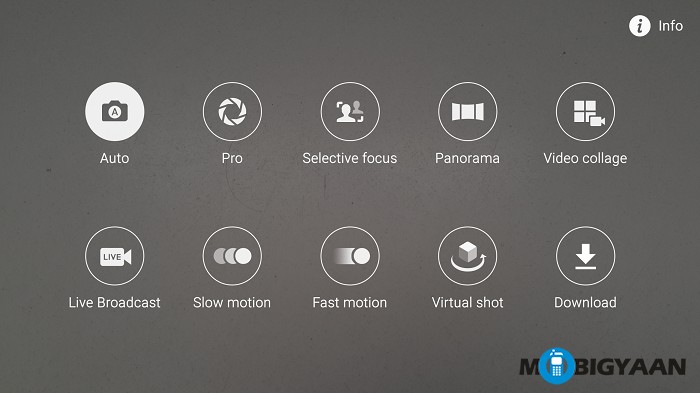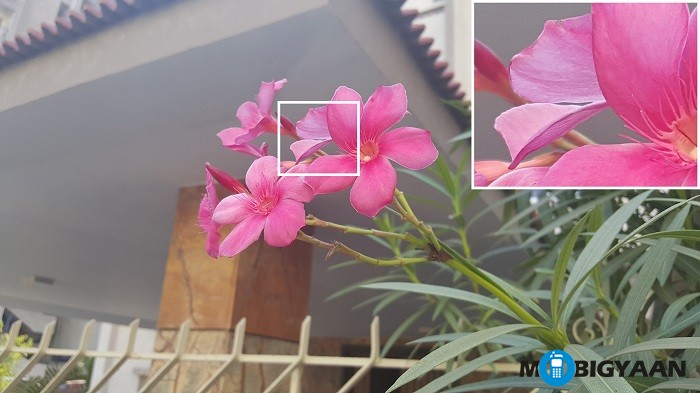 The 16 MP Main Camera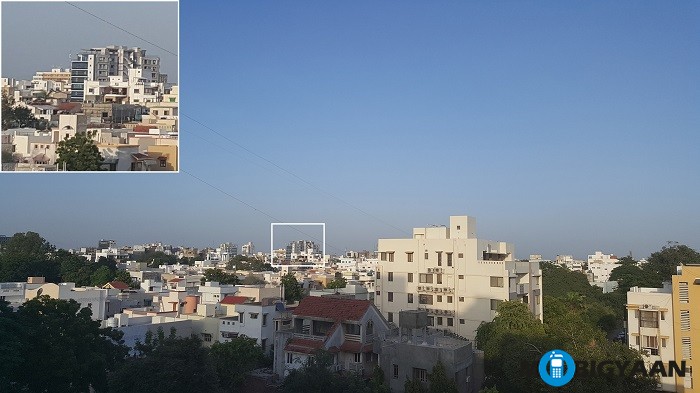 The Daylight Shot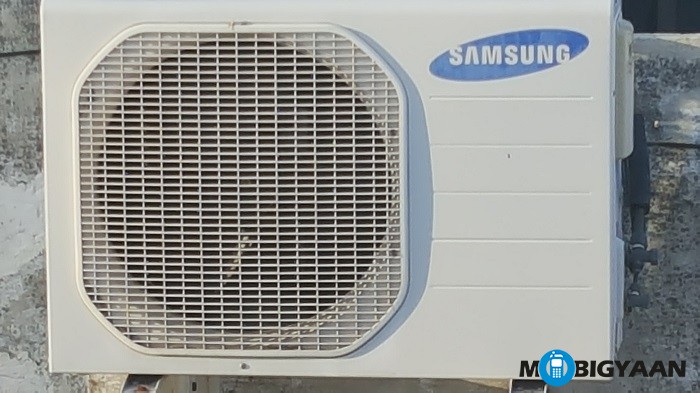 Digitally Zoomed
The images look more effective in colors and details. The camera performs way too similar to the Galaxy S6. The details are crisp and accurate, the pixels does not give blurry effects, the image looks more sharpened.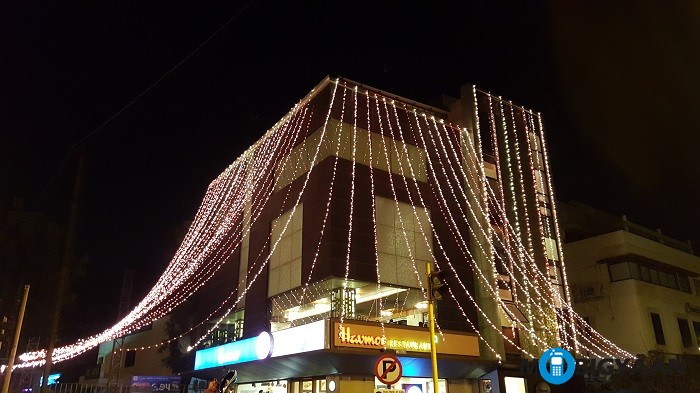 The Night Shot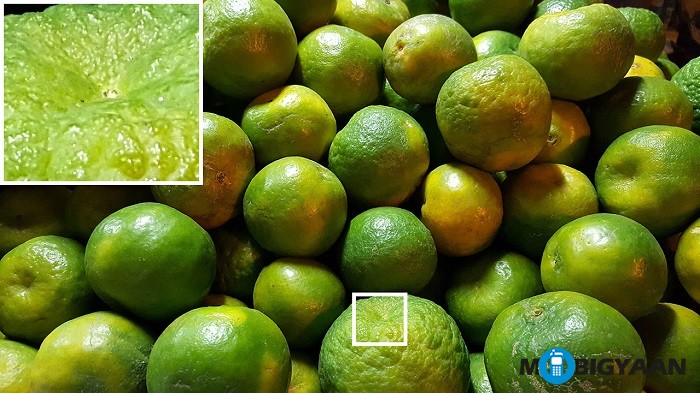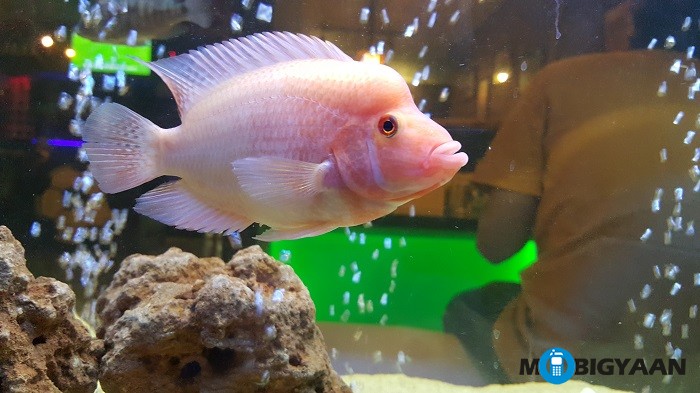 Under Artificial Lights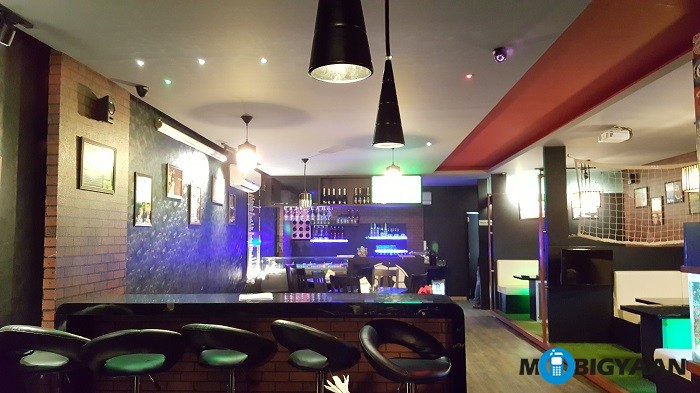 Indoor lightning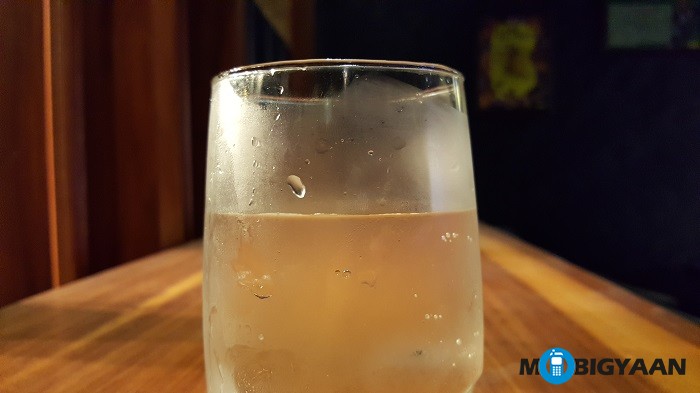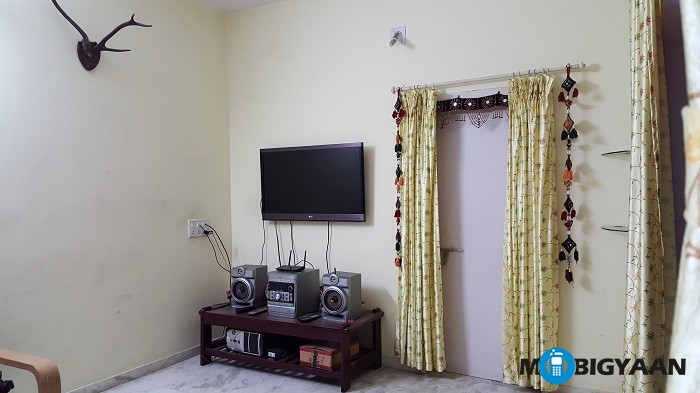 Room Light Shot (Without Flash)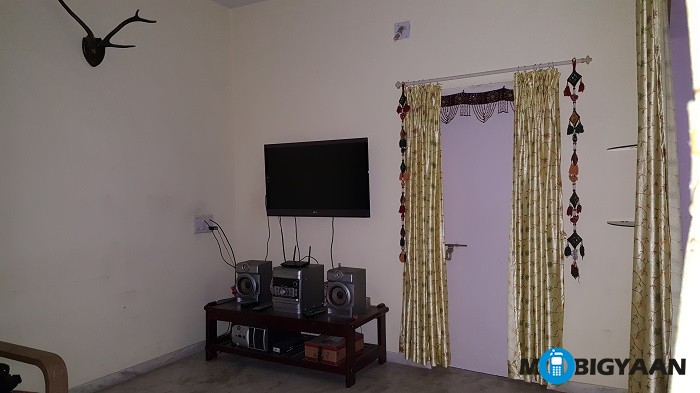 Under No Light (Flash)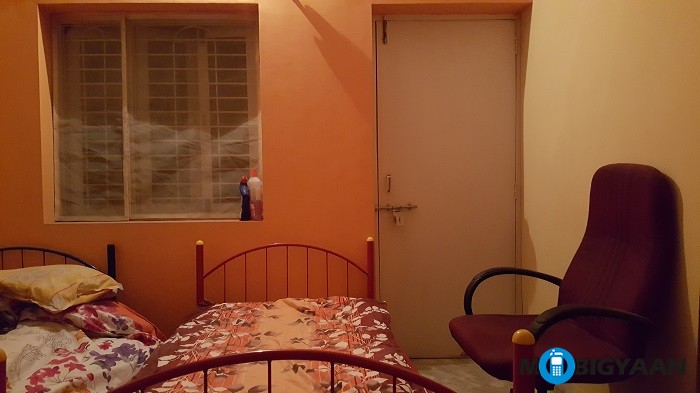 Without Flash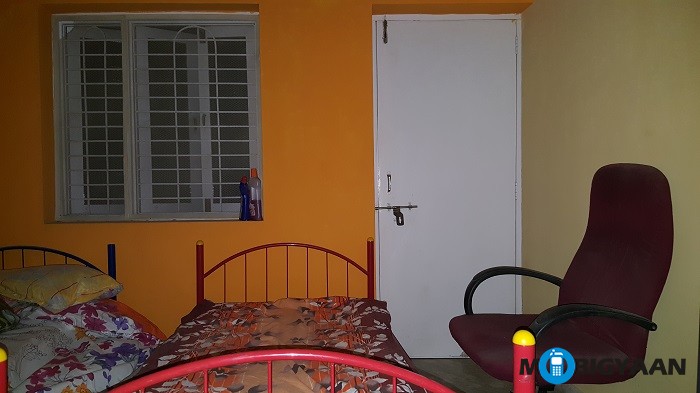 With Flash
We were surprised with its shots in low light conditions. The low light shots are fairly strong with almost no noise. The shots taken with flash were in a totally dark room with no incoming lights. The flash is exceptionally powerful and works spectacularly under minimal lights.
Interestingly, it can record up to 4k videos with slow motion 120 frames per second. You will love to capture slow motion videos especially the moving moments. The camera does not support laser focus just like the LG G4 but does a great job in terms of picture quality.
Slow Motion Video Sample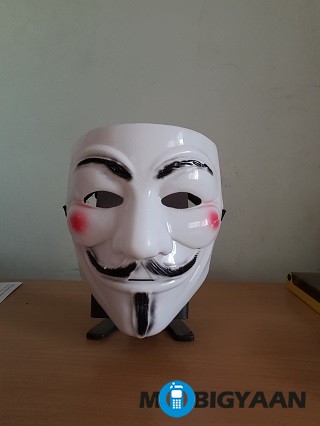 The Portrait Selfie
The front camera is a 5 MP with 120-degree wide-angle field of view which is useful to capture a large group of selfies. The secondary camera is much better than Note 4. The front camera which performed well and good here can beat out many smartphones comes with a 5 MP camera.
Storage and Connectivity
Connectivity
We were expecting a USB Type-C instead they gave a standard MicroUSB 2.0 port. Surprisingly, the Note5 does not offer connectivity features just like their older sibling. Some of the connectivity options are designed and replaced as compared to its predecessor. SIM tray is located on the top left and audio jack of 3.5 mm is below which was completely different on Galaxy Note 4. It also supports NFC, Bluetooth 4.2, Wi-Fi 802.11 a/b/g/n/ac dual-band (2.4/5GHz), A-GPS and GLONASS.
USB OTG
It does support the USB OTG for flash drives as well as the USB keyboards and mouse. You need a 3rd party app like ES File Explorer to use flash drives.
Storage
As expected, Samsung did take away MicroSD support and users who got used to it will definitely disappoint on this. And of course, Samsung removed the IR Blaster too. However, Samsung has improved the performance of the internal storage considerably. The performance is notably faster than the Note 4 storage but may be close to the one in Galaxy S6. On a 32 GB Note5, you will get around 24 GB free space available.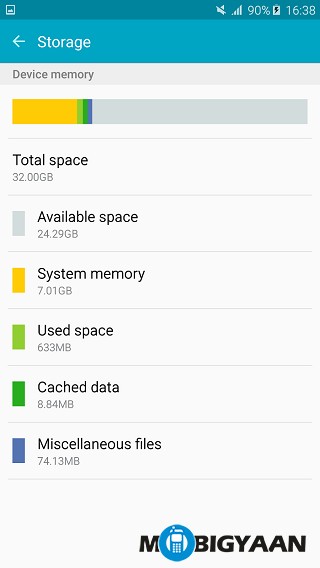 Battery
The Samsung Galaxy Note5 has a 3000mAh battery which is somewhat lower than what we have seen in the Galaxy Note 4 (3220mAh). After using it for a while, we found out that the battery runs great in terms of normal usage.
Battery Life
The battery drops 0% after 44 minutes of standby and drops by 6% in 1 hour 20 minutes after checking few apps and notifications on full brightness. Playing some songs for 20 minutes used 1% of the battery while playing a 720p video on full brightness for 10 minutes took away 2% of the battery. The Need For Speed No Limits used 4% battery under 10 minutes on full brightness.
The battery will drop significantly on maximum brightness and wireless turned on. The ultra power saving mode is very much useful if you are low on battery, but the phone interface will drastically change into a simple screen and you will be limited to calls and messages.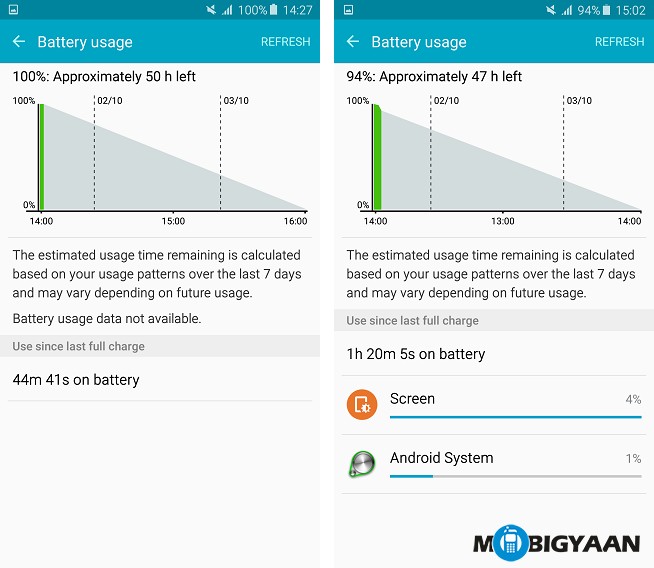 Normal usage (Wi-Fi, Bluetooth, Data, GPS turned off)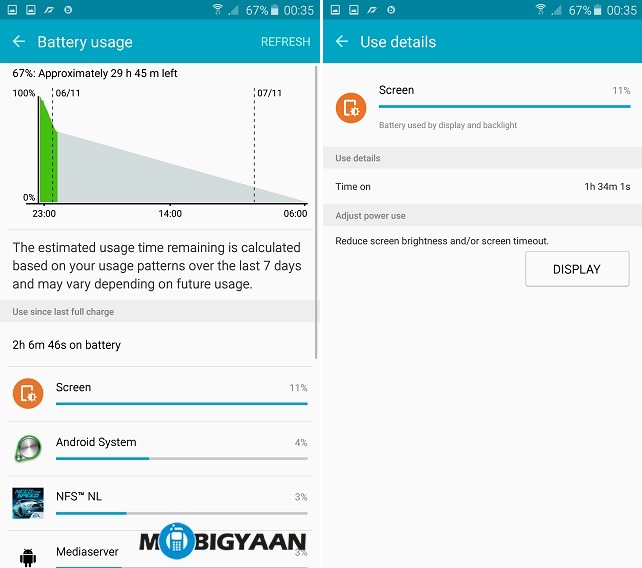 Heavy usage (Wi-Fi, Bluetooth, Data and GPS turned on with Full Brightness)
Charging
In our battery charging test, we charged the phone for few minutes on airplane mode, the result was quite good. The phone comes with 5.0 V and 2.0 A travel adapter. In 10 minutes, the battery reached 19% to 35% in fast charging mode. It also supports wireless charging, but it isn't bundled with the phone.
We found the battery to be decent in terms of normal use, however, expect some drops while gaming and heavy tasks with high brightness.
Pricing And Variants
The Samsung Galaxy Note5 comes in Sapphire Black, White Pearl as well as in Titanium Silver and Gold Platinum. It is available in two variants – 32 GB and 64 GB. The price starts from ₹53,900 for a 32 GB model and ₹59,900 for a 64 GB model. The smartphone has 1-year limited warranty in India.
Verdict
The Galaxy Note5 is far better in terms of design and build quality than its previous generations and since an important feature MicroSD support is removed, a brighter display, fingerprint scanner, and push-button S-Pen stylus were an added benefit. For those who already own a Galaxy S6, the Note5 may feel more like a larger Galaxy S6.
People who love S-Pen will definitely enjoy playing with it. The enthusiasts will be drawn easily by the brighter and crisp display. The Galaxy Note5 will be very useful for everyday tasks, but has enough power to run any kind of high-end games and apps. It is definitely recommended for those who has a budget above ₹50,000.
Pros
Solid build quality
High brightness levels
Crisp 2k resolution display
Very fast performance
Thin and light weight
Fingerprint sensor and heart rate monitor
Push button S-Pen stylus
Cons
No MicroSD support
Average speakers
No IR Blaster support
No wireless charger bundled