NOVO7, World's First Android ICS launched for less than $100 by MIPS. Potential Aakash Killer?
The world went gaga when India showcased the Aakash which was deemed to be the cheapest tablet in the world. And as we are waiting for the commercial launch of the tablet, a US based company, MIPS has already challenged Aakash with its own Novo 7, a $99 tablet to run on the Android 4.0 Ice Cream Sandwich OS.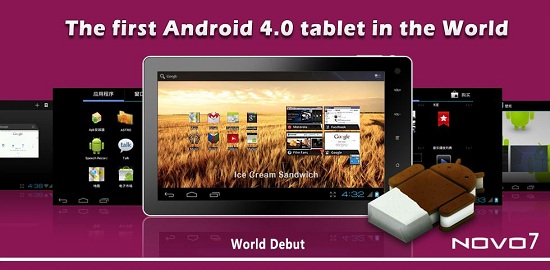 Novo 7 is a 7 inch tablet with much better specs compared to that of Aakash. It has a 7 inch capacitive touchscreen, will run on a 1GHz MIPS-Based XBurst CPU with a Vivante GC860 GPU and has Wi-Fi, Bluetooth, HDMI, USB 2.0 and microSD features. It also has front and rear cameras of 2MP resolution each. The Novo 7 is also said to have 3G onboard. The tablet maker claims 7 hours of web browsing and six hours of gaming thanks to the low power sipping processor.
Andy Rubin, senior vice president of mobile at Google said, "I'm thrilled to see the entrance of MIPS-Based Android 4.0 tablets into the market. Low cost, high performance tablets are a big win for mobile consumers and a strong illustration of how Android's openness drives innovation and competition for the benefit of consumers around the world."
As for now, Nova 7 is now available in China but you can also order it online over here. The tablet is said to reach the US and other countries very soon. If you order Novo 7 online you will be charged $99 plus $60 for the shipping and handling, which takes the total cost of the tablet to $159 and somewhere a little less than Rs. 8300. So yes it is cheap indeed. There is also going to be an 8-inch and a 9-inch version that will be announced soon, so watch out for those as well.
Interested? Let us know in the comments below.