Now book a Taxi using your Nokia NFC enabled device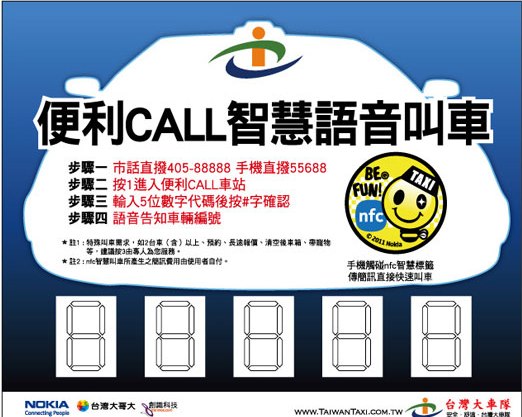 Yes now you can book a Taxi with just a tap and touch. Taiwan Taxi has become the first company in the world to make use of NFC (Near Field Communication) and has created an NFC booking system with Nokia. Soon users will be able to order a taxi from Taiwan Taxi from their desired location by just taping their devices over NFC enabled posters. When a user taps his device over the poster the phone is allowed to send a text to the company's back-end system and a taxi is booked for you. The user gets a confirmation of the booking just after 15 seconds.
Special NFC enabled posters will be placed in over 15,000 different stores in Taiwan, making it possible to use this technology in popular locations. This can prove to be of great advantage to people who either don't know where they are or don't have the number of the taxi providers.  Even travellers visiting from other countries can make optimum use of this facility. As of now there's a long way to go before with NFC and many more development can be expected in the coming months.