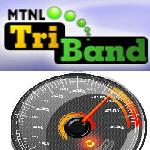 MTNL (Mumbai) today announced that it has increased the Broadband Speed of its 256kbps Unlimited Broadband Tariff plan Free of cost. Now MTNL subscribers who are at present using or will use the "Unlimited Plan 749" can enjoy the bandwidth of 380 Kbps.

MTNL has also extended the timing for FREE download for night unlimited plan DSL NU 849 during night from 10.00pm to 08.00 am. Earlier its timing was 11.00 pm to 07.00 am.

MTNL is providing Unlimited Broadband plan without any "Fair Usage Policy" or limitations regarding downloads and uploads.The monthly CPE service charges are also waived off for all Unlimited Plans users.

To know more on MTNL Broadband service just call 1504 from MTNL phone or 022-22221504 from other service provider.