With the growing popularity of the Tinder social discovery app, Tinder has now added the Social feature for its users.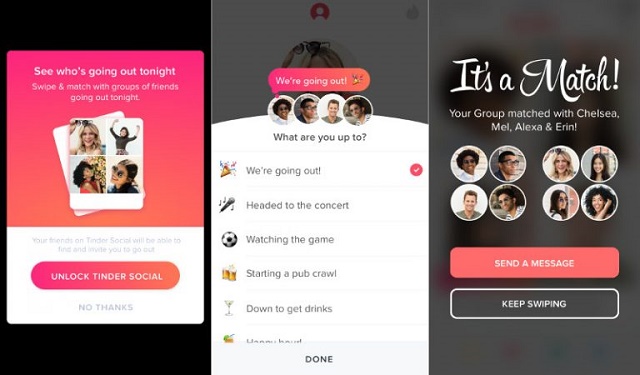 Tinder has announced the release of the Tinder Social feature which allows users to create groups, meet new people and plan activities together. The feature aims at connecting group of people with same interests to make plans to try new places and things.
Using Tinder Social, users can choose to add friends to their group via Facebook, and then match with other groups that are in the area. Users can create a group by selecting 1-3 friends who need to accept the invitation. If a group member of both groups swipes right, it's a match and the groups combine and members can chat with each other until the conversation thread expires at noon the following day.
Users can also opt out of the Tinder Social feature by toggling Tinder Social ON and OFF by accessing their settings in-app at anytime. Also users can only belong to one group at a time. To download Tinder, visit the Google Play store or the Apple App Store.
Speaking about the Tinder Social feature, Sean Rad, CEO and co-founder, Tinder, said, "Tinder Social is designed to make it as easy as possible to plan your night, get out into the real world and meet new people. The new feature takes the Tinder experience to a new level, offering our users more ways to expand their social circles and interact with potential matches. We believe it's the ultimate tool for planning."