With the racing season already on its way, the official F1 2012 timing app is now also available on the BlackBerry PlayBook. Developed by Soft Pauer, the app was demonstrated at last week's BlackBerry World event and includes an array of great features.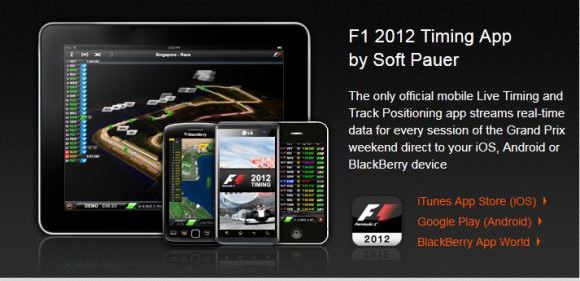 The app gives you more than 130 hours of live F1 coverage, gives you access live to timing and track positioning for all F1 sessions over a race weekend P1, P2, P3, qualifying and race for the 2012 Formula One World Championship.

Features:

REAL-TIME TRACK POSITIONING: Displayed on our dynamic and interactive map. You can see the position of every F1 driver on the track at the same time. See the gaps and pit stops as never before!

FOLLOW YOUR FAVOURITE F1 DRIVER: Selecting a driver switches the camera to follow that selected driver around the race track. Watch as they battle for position!

LIVE TIMING DATA: Timing data is streamed direct from Formula One Management's technical centre at the race track to the palm of your hand. With multiple timing screens including sectors, gaps and speeds. Watch the sessions like the engineers on the pitwall!

LIVE LEADERBOARDS: Combined with live timing data, scrollable leaderboards display a wealth of data.

DOWNLOAD RACE PACKS: Download race packs after the event to watch the sessions again and again. Perfect for tape delayed broadcast!

LIVE TEXT COMMENTARY: Lap by lap live text commentary keeps you updated while the action unfolds.

EVENT COUNTER & NOTIFICATIONS: A new enhanced Infobase with an event countdown that shows the time to the next session and informs when a session is live. Optional notifications alert you when sessions are approaching.

KEEP UP TO DATE: Easily access a wealth of information with latest drivers and teams stats, race information, standings and latest results.

COMPLETE FORMULA ONE ACCESS: Experience each and every Formula One Grand Prix session via the live timing & track positioning feed in the palm of your hand.

Follow the links to download the app: