OmniVision unveils 13 MP PureCel OV13850 camera with 4K video recording capabilities
With cameras becoming an important entity in all smartphones and tablets, OmniVision has announced a 13 MP camera with 4K capabilities.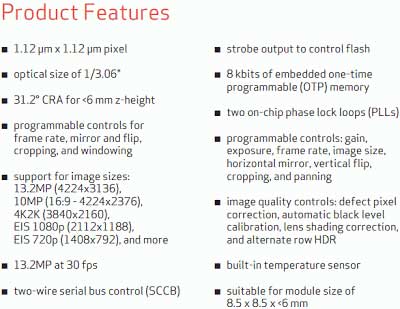 OmniVision, which is a leading manufacturer for image sensors, has unveiled the 13 megapixel PureCel OV13850 camera. The camera sensor, designed for high-end smartphones and tablets, has the capability to record 4K (UltraHD) video at 30 frames per second. The camera also is touted to be the best in class for imaging in low light conditions.
The 13 MP PureCel OV13850 camera provides a resolution of 4224 x 3136 pixels which is a valued at 13.2 MP. The camera uses a 1/3.06 inch sensor which also allows 1080p video recording at 60 fps. The camera can also be used to record HDR videos at 30 fps. The camera is expected to replace the 8 MP cameras which have become a standard in the smartphone industry.
Speaking about the new camera, Harish Iyer, Product manager, OmniVision said, "Industry analysts predict 13-megapixel to be the fastest growing resolution within primary cameras for mobile devices in 2014, with the potential to reach sales of more than 330 million units in 2014. This anticipation stems from smartphone manufacturers' push to upgrade box specifications for high-end smartphones to support capture of higher resolution images and HD videos."