After Honor 8 finally arrived, here comes another flagship to take on OnePlus 3. OnePlus 3 and Honor 8, both are strong competitors below ₹30,000 with high-end hardware. It is likely to be assumed by the specs that the dual camera on Honor 8 might have an edge over OnePlus 3. Until we declare the winner, take a look at the OnePlus 3 vs Honor 8 camera comparison below and what the camera samples have to say about this.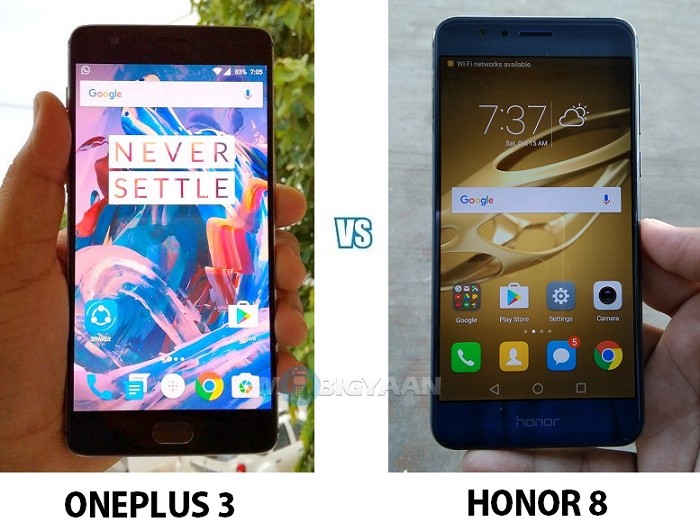 OnePlus 3 vs Honor 8 – Camera Specifications
[table id=67 responsive=flip /]
Honor 8's camera is packed with many features. It has 12 MP f/2.2 dual camera (IMX286) with dual-tone LED flash. On the other hand, there's a 16 MP f/2.0 camera (IMX298) on OnePlus 3 with single LED flash. The camera comes with a support for Optical Image Stabilization and 4K video recording while the latter doesn't.
OnePlus 3 vs Honor 8 – Camera Samples
Check out some of the camera samples we have taken from both the phones.
Honor 8 sports an identical dual 12 MP camera concept as seen in the HUAWEI P9 but not with the Leica lens. Honor 8 doesn't have Monochrome mode like P9 but still it has the depth of field that will amaze you for sure. Unlike OnePlus 3, Honor 8 camera interface is much of a 'stuffed-with-features' kind of a thing having Pro photo, Pro video, Food mode, and many others.
On the other hand, OnePlus 3 picked up an easy interface to keep things simple without much fuss. Although OnePlus 3 has fewer features comparatively, the camera quality is more or less on par with Honor 8. OnePlus 3's AMOLED display has an advantage for viewing images in better quality. Honor 8 images tend to look more detailed when zoomed in certain areas. As both uses Sony's IMX sensor, one is 16 MP (IMX298) and other is dual 12 MP (IMX286). What we will miss on the Honor 8 is the support for OIS and 4K video recording. Nevertheless, we found both the cameras close enough, but you can expect better quality images on Honor 8.
OnePlus 3 is faster in taking shots i.e. the shutter speed is slightly better by a mark than Honor 8 even in low light. However, Honor 8 takes better low light shots and if you manage to keep it still, its Night Mode will probably give the best low light results.
Coming to an end, both phones are great at taking photos. It turns out that Honor 8 is more of features oriented while OnePlus remains to be choose simplicity. Honor 8 lets you do much with its camera where OnePlus 3 remains behind. If you are a camera enthusiast or photography is your thing, Honor 8 would be a great choice.