On the verge of launch, the OnePlus 5 is almost figured out courtesy of the downpour of leaks. One little detail left is the battery capacity. In this regard, we have two rumors. One was spotted yesterday, the leaked spec sheet showed a 4,000 mAh battery. The other is the more likely one. Disseminated by Kumamoto technology, the leak shows some document page detailing the Dash Charge technology of the OnePlus 5.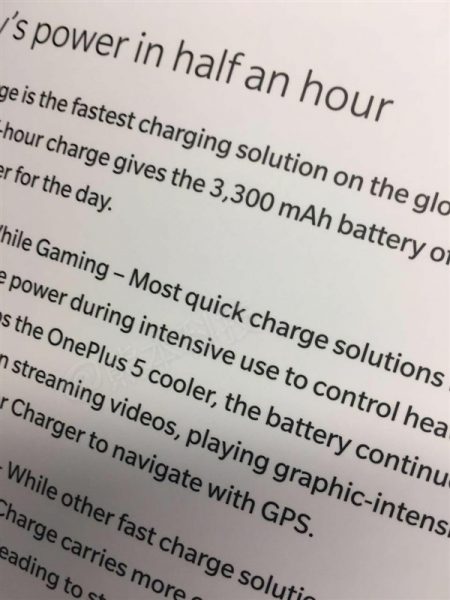 We can clearly see the 3,300 mAh capacity in the beginning of the page. Now, it is already official that the OnePlus 5 is going to be the thinnest flagship device by OnePlus. So a 3,300 mAh battery seems more probable. Apart from that, there isn't much in the page to go about. The battery life of the OnePlus 5 is not going to take a big hit either, as it is just 100 mAh less than the previous OnePlus 3T.
The page mentions Dash Charge and it's superiority over other fast charging technologies. We are not sure whether OnePlus will follow up this year with a second gen Dash Charge or not but the leak from Kumamoto technology is pointing to no new version of the tech. Either way, we have a little info regarding this particular feature and also little time to wait till all is revealed.