OnePlus 5 will be the slimmest flagship, says CEO Pete Lau
It seems OnePlus CEO Pete Lau has been handed the job of creating hype over the OnePlus 5. The CEO has been quite active with his tweets on Twitter and elsewhere bringing in tidbits of information regarding the upcoming flagship. We know a lot about the OnePlus 5 courtesy of the pouring leaks and images, but this is something new.
This time the CEO has taken to Weibo, to reveal something not known earlier in any leak. What Pete Lau said was a statement in Chinese which for our lack of understanding means two things. If taken plainly, the quote means that the OnePlus is the slimmest flagship smartphone yet.

What is not clear, however, is whether he means all flagships or rather only OnePlus flagships. The OnePlus 3T was one of the slimmest devices measuring just 7.35mm. So the OnePlus 5 will have to be at least 7.34mm. Though that would not leave us as impressed. Other flagships like the Samsung Galaxy S8 8mm thick while the LG G6 stands at 7.9mm and the Xiaomi Mi6 is 7.5mm. Pete Lau's comments exclude the OnePlus X which is 6.9mm thick but still not a flagship phone.
Having a thin device is not bad, what we most fear is the OnePlus 5 sacrificing some stamina for just some millimeters in the spotlight. We hope that OnePlus understands how important battery life is compared to thinness and should treat the OnePlus 5 likewise. Pete Lau also goes on to state that the user experience will not be compromised because of the design. Let's take that as an assurance from him.
Among other leaks today, we have a poster on Weibo suggesting the OnePlus 5 launch date to be June 15 . The leak falls in line with another internal mail leak which also suggested the same date. However such posters can be easily created and made up.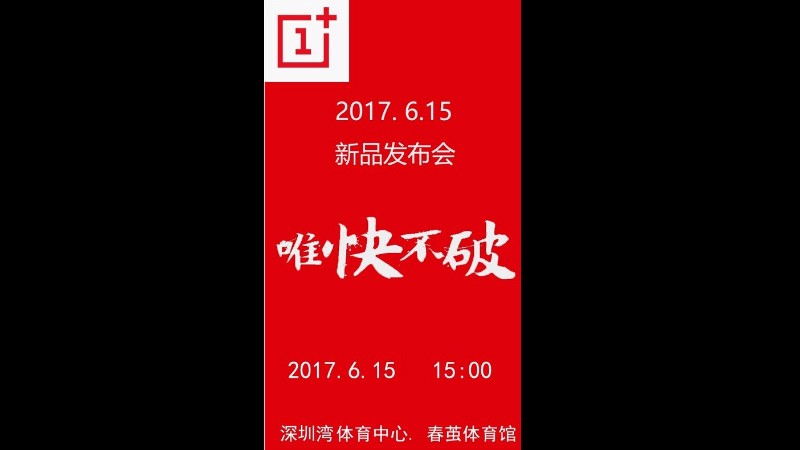 The OnePlus 5 is expected to be packing in the latest Snapdragon 835, paired with at least 6GB of RAM and 64GB of storage. A vertical dual camera has also long been teased and seems very likely. The device is also expected to have a bump up in the display to Quad-HD (1440×2560 pixels).