Just like OnePlus 2 was launched during the VR event, its successor OnePlus 3 will also be launched in a VR event on June 15. To be a part of the VR launch event, OnePlus recently gave away 30,000 units of OnePlus Loop VR Headsets which were claimed pretty quickly. It was also available on Amazon India on June 3 and June 7. If you have missed all those chances to get one for yourself, here's another chance to win the brand new OnePlus Loop VR Headsets. We are giving away 15 OnePlus Loop VR Headsets.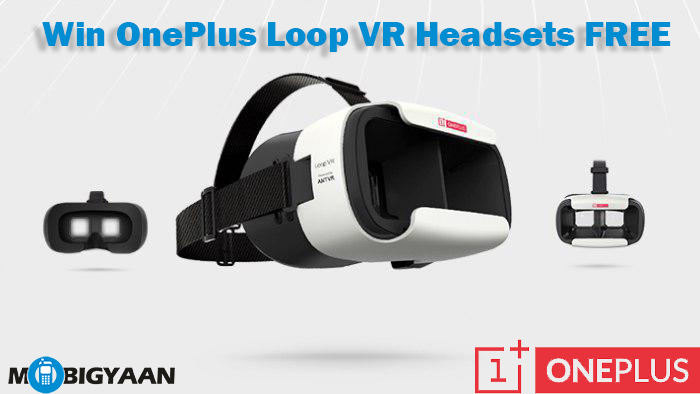 For OnePlus fans out there who want Loop VR Headsets curiously, we have announced yet another awesome Giveaway. So grab this opportunity to win OnePlus Loop VR Headsets with us. Go ahead and participate in the contest below. Turn your smartphone into a private 360-degree theater with OnePlus Loop VR Headsets.
To participate, you need to do the following.
1. Like us on Facebook
2. Share this post on your Facebook Profile 
3. Subscribe our Newsletter (It's free)
4. Download our Android App and send a message to us from within the app
5. Leave a comment below and tell us what would you do with OnePlus Loop VR Headset
6. Fill this form
Terms and conditions:
-By participating in the Giveaway, you agree with our Terms and conditions
-The submission of entries will be closed on 10th June, 2016, 11:59 pm.
-Names of the winners will be declared on 11th June, 2016
-We reserve the right to make changes in the terms and conditions.
The winners are
Rishabh Gour
Manjit Sarma
Aayush Jain
Akshay Prabhu
Yoganandh
Tapas Roy
Tejas Maske
Brian Rodrigues
Tanishq Jain
Gokul B
Nitesh Pant
Mridul Mudai
Soumen Dutta
Sanjay Khan
Navjot Singh